Why Do Insurance Rates Go Up?
Doesn't it suck when you try to renew your auto insurance policy only to find that your rates have increased? Though it may seem like your auto insurance rates always seem to go up and that there is nothing you can do about it; they don't increase for no reason. We actually have a lot of control over our premiums.
What Do Car Insurance Companies Look At?
The main reports auto insurance companies look at when determining how much they will charge you for auto insurance include:
Your driving record – Stay safe on the road. Accidents, speeding tickets, and other traffic violations can have a huge impact on your premiums. The cleaner your driving record looks, the less you will have to pay for insurance.
Vehicle history – Does your car have a lot of issues? Do you need to get it fixed often? Has it been in a lot of accidents? These all affect your vehicle history report. You might consider switching to a newer, safer automobile if your vehicle has a poor history report.
Financial responsibility – This includes your credit score as well as your financial standing with your insurance company.
In other words, your insurance company will see every time you get into an accident, get a speeding ticket, forget to pay a bill, make an insurance claim, etc. Make sure you keep these things in mind!
(Note – If you are curious as to how much your insurance will increase following a car accident, please take a look at this article on after accident auto insurance and accident forgiveness)
How Do Insurance Companies Increase Your Rates?
If the auto insurance company decides to increase your rate at any time, they cannot just automatically charge you more on your next bill. Rate increases go into effect when your policy is renewed or when your current policy ends. The insurance company also cannot cancel your policy mid-term based upon new information in the reports discussed above. Your insurance policy is pretty much insured throughout the length of the policy-term.
Other things that can cause your insurance rate to increase include – adding more drivers to your policy, adding more cars to your policy, buying an expensive luxury car, state-enforced insurance rate hikes, and even nationwide insurance supply and demand. Click the infographic below to view a more detailed list about what determines your car insurance rate: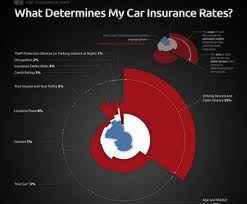 If you do not want to see a huge price increase on your next insurance policy, make sure you consider the things listed above. Keep in mind that if your rates get too high, you can always take your business elsewhere. Speak with different insurance companies to get different insurance quotes.