Car Insurance for Driving to Canada
Checking with your car insurance when driving to Canada is important to ensure that you're covered when you cross the border. Among other factors like weather, speed limits, and culture, car insurance traveling to Canada can be complicated. Most auto insurance policies continue coverage for short trips like a drive to Canada, but you should also consider getting roadside assistance and travel insurance.
Free Auto Insurance Comparison
Secured with SHA-256 Encryption
UPDATED: Oct 30, 2020
It's all about you. We want to help you make the right coverage choices.
Advertiser Disclosure: We strive to help you make confident auto insurance decisions. Comparison shopping should be easy. We are not affiliated with any one auto insurance provider and cannot guarantee quotes from any single provider.
Our insurance industry partnerships don't influence our content. Our opinions are our own. To compare quotes from many different companies please enter your ZIP code on this page to use the free quote tool. The more quotes you compare, the more chances to save.
Editorial Guidelines: We are a free online resource for anyone interested in learning more about auto insurance. Our goal is to be an objective, third-party resource for everything auto insurance related. We update our site regularly, and all content is reviewed by auto insurance experts.
So, you've decided that it's time for a road trip and your destination will be north of the border, eh? Like the USA, Canada is a massive country built for exploring, with highways that run from one coast to the other and friendly people everywhere in between. Of course, since it's a foreign land there are different rules and regulations that you'll have to be aware of, but with a bit of time and attention you'll find that driving through Canada can be an excellent way to have a rewarding vacation. In this article we'll check out how your USA auto insurance works when crossing into Canada, and some tips for getting the most out of it.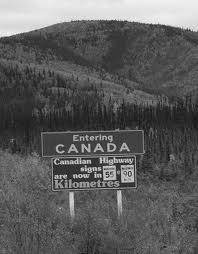 Items you will Need to Cross the Border
When you arrive at the Canadian border, the border guards are going to ask you to produce a few documents. Obviously, you'll need a driver's license that will be valid throughout the duration of your trip and won't be expiring any time soon. You'll also need to provide documentation that shows that your car is registered to you and is fully insured throughout the duration of your travels in the country. You might also want to consider bringing your passport, as it can serve as a backup legal document and if you manage to lose or misplace your driver's license it will be your only piece of government identification.
As with all border crossings, the border guards may decide to inspect your vehicle to see what you're bringing into the country. It's best to calmly accept a search like this as a fact of life and to not be annoyed or provide any friction to the guards while they perform their job. If you're on the right side of the law you have nothing to worry about outside of a small inconvenience on your time, but if you cause a disruption you may end up facing delays or even a barrier to entry.
Compare over 200 auto insurance companies at once!
Secured with SHA-256 Encryption
Factors to Consider while Driving in Canada
The first thing you will notice is that Canada uses the metric system, so their distances and speed limits are in kilometers and kilometers per hour instead of miles. You'll need to get used to this, so try to memorize that there are 62 miles in 100 kilometers. Therefore, if the speed limit is 100 km/h you will need to keep it around 62-65 mph to avoid speeding. Note that since you're in a foreign country, you should probably avoid speeding as run-ins with the law are never fun.
You should also take the weather into consideration when you're traveling to Canada. It's a northern country, which means if you are traveling anytime between the autumn and the spring you may drive through areas that are subject to snow, cold or other intense weather. Ensure that your vehicle is properly prepared for the weather you will encounter during your trip.
Travel Insurance is a Better Option for Injury Coverage
Although you may have injury or other medical coverage through your auto insurance, it's worth investing in an inexpensive travel insurance policy while you're traveling outside of the country. If you are in an automobile accident you don't want to have to deal with your auto insurance company to figure out who's paying for the medical bills; with decent travel medical insurance coverage you can rest assured that everything will be taken care of.
In our previous article titled, "Driving To Mexico and How Tourist Auto Insurance Works," we talk about the details of tourist auto insurance and what you need when driving into a foreign country.
Consider Joining an Automobile Association for Roadside Assistance
While you're likely to enjoy the full insurance coverage throughout your trip in Canada, it's always best to be on the safe side when it comes to roadside assistance. Joining up with a group like the American Automobile Association (AAA) or another organization that partners with the Canadian Automobile Association (CAA) can save you a serious headache if your car decides to break down during your trip and needs repairs. Unless you're in a very sparsely populated area, your regular mobile phone should function perfectly in Canada, allowing you to call for assistance during a breakdown, flat tire, or dead battery. Avoid dealing with a costly towing bill and purchase an inexpensive membership to one of the many automobile associations before you head out on your trip.
Compare over 200 auto insurance companies at once!
Secured with SHA-256 Encryption
Check with your Insurance Provider Before you Leave
The final step is to check with your auto insurance provider before you leave the country to make sure that you have all of your bases covered. Give a quick read through your auto insurance policy, paying attention to any sections on coverage in foreign countries and trips to Canada. Another great source of information is a travel agent, who deals with individuals making trips to foreign lands on a daily basis. Finally don't forget to reach out to your social network by posting on Facebook or Twitter to ask if anyone has driven to Canada and can share some insurance advice.
Other Resources
USA State Department Travel Guide – If you plan on driving into Canada from the United States, this site has all the information you need including entry/exit requirements for US citizens, threats to safety, and insurance information.
Frommer's Travel Guide – Frommer's always makes great travel resources.  In this article, they detail some steps you can take to make it across the border and into Canada without any hassles.
4AutoInsuranceQuote.com helps thousands of individuals across the United States with finding the best deals on auto insurance. If you're interested in checking out some free quotes from various auto insurance companies to see how you can save on your car insurance, scroll up to the top of this page and enter your ZIP code in the quick form. We'll take care of the rest. Thanks again for visiting 4AutoInsuranceQuote.com!