General Liability Insurance
The general liability insurance definition includes the coverage in place that protects policyholders from the risks incurred from lawsuits and other legal procedures. General liability insurance doesn't cover damage caused intentionally, but it can protect policyholders from paying out of pocket for damages caused by extenuating circumstances. When you use general liability insurance, your insurance provider is obligated to protect you from the claim against you.
Free Auto Insurance Comparison
Secured with SHA-256 Encryption
UPDATED: Oct 30, 2020
It's all about you. We want to help you make the right coverage choices.
Advertiser Disclosure: We strive to help you make confident auto insurance decisions. Comparison shopping should be easy. We are not affiliated with any one auto insurance provider and cannot guarantee quotes from any single provider.
Our insurance industry partnerships don't influence our content. Our opinions are our own. To compare quotes from many different companies please enter your ZIP code on this page to use the free quote tool. The more quotes you compare, the more chances to save.
Editorial Guidelines: We are a free online resource for anyone interested in learning more about auto insurance. Our goal is to be an objective, third-party resource for everything auto insurance related. We update our site regularly, and all content is reviewed by auto insurance experts.
Liability insurance is a product or products provided by insurers that protect the insured parties from the risks of liabilities incurred from lawsuits and other forms of legal procedure in favor of 3rd parties.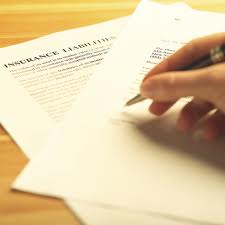 So in the instance of liability insurance, it is not typically the insured party who will receive a benefit under the terms of the policy but rather the 3rd party to whom they have found themselves liable, or have been adjudged liable to in legal proceedings.
In normal cases, liability insurance does not offer protection for any damages that are intentionally afflicted or liability for contract failure.
In the case of liability insurance, the insurer is legally required (has a duty to) and has the right to defend the insured party against the claim that has been made. In normal proceedings, any legal costs of defending the insured party do not affect policy limits, unless this is explicitly stated in the insurance contract itself. This can be very useful for the insured client because the overall defense costs may quickly mount up if the case ends up going to court or trial for resolution.
What are the duties of a liability insurance provider?
To defend against the claim made against the insured party – This duty begins when the insured party is sued. The insurer can either push for a declaratory judgment which is when they feel there is no coverage for the particular action, defend (at which point it waives the right to a declaratory judgment unless it defends "under a reservation of rights" ) or it can be refused to do either.
To indemnify – which means that the insurer agrees to pay all sums for which the insured party is liable up to the limits defined in the policy.
And in some states the insurer may be obliged to settle reasonable claims, this is to protect the insured from insurers pushing for trial when the damages may exceed the policy limit and forces them to settle any reasonably clear claim.
If an insurer is found to have breached these duties, they may be liable for a tort of insurance in bad faith and for a breach of contract.
Compare over 200 auto insurance companies at once!
Secured with SHA-256 Encryption
What is general liability insurance?
For businesses in the United States and homeowners, general liability insurance covers the public and product liability risks in a single policy. In the cases of businesses, this will be in the Commercial General Liability insurance coverage and for homeowners, it's in the home owner's insurance policy.
(To read more about auto liability insurance outside of our glossary, please read our more detailed article on the subject.) 
Additional General Liability Insurance Definitions