Auto Insurance Horror Stories
Auto insurance is a sticky scene to navigate, even when you have a good driving record. Misunderstanding your rights in a car accident or your policy's coverage limits can lead to some very interesting auto insurance horror stories. We curated this list of car insurance horror stories to help drivers everywhere avoid these mistakes - they could happen to anyone.
Free Car Insurance Comparison
Compare Quotes From Top Companies and Save
Secured with SHA-256 Encryption
UPDATED: Jun 6, 2022
It's all about you. We want to help you make the right coverage choices.
Advertiser Disclosure: We strive to help you make confident auto insurance decisions. Comparison shopping should be easy. We are not affiliated with any one auto insurance provider and cannot guarantee quotes from any single provider.
Our insurance industry partnerships don't influence our content. Our opinions are our own. To compare quotes from many different companies please enter your ZIP code on this page to use the free quote tool. The more quotes you compare, the more chances to save.
By now you should probably know about the many benefits of having auto insurance coverage. In fact, not only is buying car insurance a good idea, we are actually required by law to carry car insurance at all times. By being insured, you are protecting your vehicle, your health, and your financial well-being (not to mention those of other drivers on the road).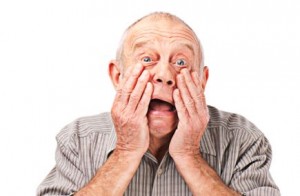 While we always hear stories about people being in accidents and saying something like, "thank god I had insurance," what we don't often hear about are the many horrible situations people have to experience because of their insurance (or lack thereof). Sometimes these situations they put themselves in are their fault, and sometimes they are the fault of their insurance company.
While we hate hearing about other people's misfortunes, these tragedies can often act as learning experiences for ourselves, so that we never put ourselves in the same situation that these poor souls have had to endure.
So without further ado, I present to you: Auto Insurance Horror Stories
Kathy's Run-In With An Uninsured Driver
Kathy, 20, from Richmond, Virginia shared her story with us, of how she had been sideswiped on her way back from work one evening.
"I'm still not completely sure what happened, I remember getting hit, and next thing I know I'm up against a light post on the side of the road. It turns out, the guy that hit me didn't have any auto insurance. I had wrenched my neck pretty bad, and was in a lot of pain, so I went over to the hospital to get it checked out.
I called my insurance company the next morning to report my claim, and was hoping to get reimbursed for my medical bill. Apparently, since the other guy didn't have insurance, and my plan didn't have under-insured motorist bodily injury coverage, I was out of luck, and ended up having to be for me $800 medical bill out of pocket."
What We Can Learn From Kathy's Story:
Always make sure you have appropriate forms of coverage, in this case, under-insured motorist bodily injury coverage (UNDUM).
Don't cut out particular forms of coverage just to save a few bucks. If we knew when accidents were coming we wouldn't need insurance at all, unfortunately, this is far from reality.
Compare over 200 auto insurance companies at once!
Secured with SHA-256 Encryption
Simon's Insurance Policy Misstep
The next horror story was sent to us from Simon of Boulder, Colorado.
"I had just switched my auto insurance to a new company, with better coverage, since I had just got a promotion, and wanted to make sure I had all forms of coverage. Everything went smoothly, I was already feeling safer with my finances. 6 months pass, and I get 2 bills in the mail; one from my new insurance company, and one for my old company. It seems so obvious now, but at the time I had no idea you actually had to cancel your previous policy. Long story short, I ended up paying an additional $500 to my old insurer in addition to the cost of my new policy."
What We Can Learn From Simon's Story
You always have to cancel your old policy once you've switched companies. Otherwise, you may be paying for coverage you won't even be using.
The Importance of Maintaining Adequate Insurance Coverage
Willard D. from Tucson contacted us with his story illustrating the importance of maintaining adequate insurance coverage:
"I was driving down the highway when a car crossed into my lane. I suffered 15 broken bones and my car was destroyed. The other driver was uninsured. After the collision, I learned my car was under-insured. I also learned that the $25,000 wheelchair in my vehicle was not covered at all. Now, I have to make payments on a vehicle that's destroyed while also finding the money to buy a new wheelchair."
What We Can Learn from Willard's Story
Make sure you have adequate coverage for your vehicle and any special equipment inside. Even if you're injured in a collision where you're not at fault, the other driver might not have insurance.
Don't Assume your Insurance Will Automatically Renew
Megan H. from Spokane reached out to us with her story about her insurance company not sending a cancellation reminder:
"I was driving 10 miles per hour over the speed limit and got pulled over. I handed my registration, license, and proof of insurance to the police officer. He told me my insurance was expired. He was right. This was on September 5 and my insurance had expired on August 31). I realized I had never received my renewal notice from my insurance company, and I never received the new proof of insurance for the next year of coverage. I had been with the same company for 4 years and they always mailed my renewal a few weeks before my old insurance was set to expire. Turns out they canceled my policy without telling me! The few hundred dollars in fines were tough – but I can't imagine what would have happened if I was in an accident!"
What We Can Learn from Megan's Story
Car insurance companies can cancel your policy or fail to renew it. Typically, a car insurance company will tell you – but not always. Always make sure you have active insurance before driving.
Compare over 200 auto insurance companies at once!
Secured with SHA-256 Encryption
Nosy Insurance Agent Asks Intrusive Questions About Personal Life
Ashley G. from Raleigh reached out to us with a story about a nosy insurance agent.
"I requested a quote online from a car insurance company in my area. I gave the company my contact information, including my email address and phone number. A representative of the insurance company called me soon after. She ended up speaking with me for 25+ minutes. Most of the conversation had nothing to do with car insurance! She asked me about my personal life, including surprisingly intrusive questions about my boyfriend that I've been living with for the past six months. A friend later told me that insurance companies to do this to build a risk profile on drivers. The more information they know, the more accurate their risk profile will be."
What We Can Learn from Ashley's Story
An insurance company isn't your friend. An insurance company is a for-profit corporation. The employees of that corporation have a duty to help the company make money. They have no interest in helping you beyond the help they're legally required to provide with your insurance contract. Married drivers often pay less for car insurance than unmarried drivers, which is why your insurance company might ask intrusive questions.
Editorial Guidelines: We are a free online resource for anyone interested in learning more about auto insurance. Our goal is to be an objective, third-party resource for everything auto insurance related. We update our site regularly, and all content is reviewed by auto insurance experts.