Liberty Mutual Auto Insurance Review: Can you get affordable quotes? (2023)
Liberty Mutual Insurance reviews find the company with an "A-" rating from the Better Business Bureau and a financial standing of "A" with A.M.Best. Depending on where you live, other companies like GEICO and USAA may offer cheaper rates than Liberty Mutual Auto Insurance. Enter your ZIP code below to get your free Liberty Mutual Insurance quote and see how the company stacks up in your state.
Free Auto Insurance Comparison
Compare Quotes From Top Companies and Save
Secured with SHA-256 Encryption
If you need car insurance and you're considering purchasing a policy from Liberty Mutual, you might have some questions you want answered before you make a purchase.
Does Liberty Mutual have the right policy for you? How much does insurance cost? What is the difference between Liberty Mutual and its competitors? Getting the answers to your questions is an important part of choosing the right insurance provider for you.
Reading this article will answer all of your questions, from whether Liberty Mutual has reasonable rates to whether they're financially stable enough to pay out claims. This may seem a bit overwhelming, but don't worry, because we are going to tell you everything you need to know about purchasing an insurance policy from Liberty Mutual.
If you're looking to get rates from Liberty Mutual as well as several other companies, you can enter your ZIP code in our free online tool above.
Liberty Mutual's Car Insurance Rates
While all the information above is important, price is also equally important. However, a low price doesn't mean anything if your insurance company doesn't take care of you in the event of an accident.
Finding the best rates for your policy is vital, so pay close attention to the information below to help you determine the best rates for you.
Liberty Mutual Car Insurance Rates by State
Liberty Mutual is available in most states, but not all. In researching the average Liberty Mutual rate in every available state, we discovered the state with the highest premium is Michigan, at just over $20,000, which is 90 percent more than the state's overall average premium.
On the other side, we saw the lowest rates in Montana, where the average premium is a little over $1,300.
The table below will show you how your state stacks up, and if Liberty Mutual is higher or lower than your state's average:
The range of insurance premiums from state to state can be extreme, so it is important to look at all of your options, especially if you live in a state with high insurance rates.
Liberty Mutual vs. Top 10 Companies by Market Share
In reviewing the top 10 companies by market share, two things immediately become evident. First, only three companies (Geico, State Farm, and Allstate) are available in every state.
Second, while Geico and State Farm tend to be pretty close to one another in price, Allstate is significantly more expensive in almost every state. Liberty Mutual is more expensive than Geico and State Farm, but typically falls in the middle of the pack when it comes to insurance rates.
When you compare the average pricing for all 10 companies, it becomes clear that USAA has the lowest prices but is not available to all drivers or in all states, making it difficult for most drivers to use their prices as a factor when choosing their insurance. USAA is only available to military members and their families, creating a specific customer pool that allows for lower rates.
When it comes to overall pricing, State Farm seems to be a little bit cheaper than Geico. However, this is just based on averages, so you'll want to get a quote from multiple companies, including Liberty Mutual, based on your personal situation to verify which will be the most affordable for you.
Average Liberty Mutual Male vs Female Car Insurance Rates
Many insurance companies determine rates by gender, but will your gender make a difference in your premiums at Liberty Mutual?
While the rates are slightly different between people of different ages and genders, for the most part, the difference is at most a couple hundred dollars per year. That is, of course, until you get to the 17-year-old drivers on the chart below.
It's clear that youth and inexperience will cost you significantly more on your car insurance, no matter your gender. However, once those teens get to the 25-year-old demographic, their rates fall to match everyone else.
Some states have made it illegal to rate by gender, including California, Hawaii, Massachusetts, Montana, Pennsylvania, and North Carolina, so those states won't see any variance between gender at all. They will, however, continue to see rating differences based on age.
For more information about how your age and gender impact your rates, check out the video below:
Remember that each company is different, so you will need to compare several different policies to know which has the best rates for your demographic.
Average Liberty Mutual Rates by Make and Model
Judging by the chart below, there is a difference in rates between make and model of vehicles, sometimes only a few dollars a year and other times several hundred dollars or more, depending on the vehicle.
The chart below doesn't include any classic cars or sports cars, so you can't exactly tell whether the RAV-4 would carry the same rate as a Mustang or a Corvette, but it should give you an idea of what your rate will be for various types of vehicles.
There are other companies that don't change their rating based on your vehicle type, so if that is important to you it would be a good idea to get a quote from a number of different companies.
Average Liberty Mutual Commute Rates
Some insurance companies change their rates based on how much time you spend on the road. The farther your commute, the higher your rates will be.
Liberty Mutual rates only show about $150 increase for a longer commute, but other companies may do better when it comes to commute rates, so you should get a quote from multiple companies before making a choice.
Average Liberty Mutual Coverage Level Rates
Insurance prices are impacted by a lot of things, including how much insurance you buy. Liability-only policies will cost less than full coverage, so many people choose to go without comprehensive and collision coverage to save money. This is not always a good decision, however, if you cannot afford to replace your car in the event of an accident.
Also, if you own a home or have other financial assets that could be taken in a court case, you might want to consider higher liability levels to protect yourself in the event of an at-fault accident.
With Liberty Mutual, the difference between low and medium coverage is only about $250, and the difference between low and high levels of coverage is only about $500 per year, so it might be worth the few extra dollars per month to have the higher level of coverage.
Also keep in mind that you can often mix your coverages, choosing to have comprehensive but not collision or have full coverage but the highest possible deductibles, giving you lots of options when it comes to your insurance coverage.
Average Liberty Mutual Credit History Rates
One of the big things that can impact your insurance rates is your credit history. Statistics show people with lower credit scores tend to file more claims, which means a low credit score can sometimes raise your rates significantly. Different states have different laws regarding how your credit score can be used, so it is important to know exactly how your credit score will impact your rates.
Read more: What happens if I disagree with Liberty Mutual's decision on my auto insurance claim?
For more information about how your credit score impacts your insurance rates, check out the video below:
If your credit rating is low, that can impact your rates, but it doesn't mean you don't have options. You can still comparison shop between companies, potentially saving yourself hundreds of dollars a year. Liberty Mutual happens to have the highest rates for people with low credit scores, so keep that in mind when choosing a policy.
Average Liberty Mutual Driving Record Rates
When it comes to your insurance premiums, your driving record has a serious impact on the amount you pay each year. This means that someone with a poor driving record can dramatically reduce their insurance rates over time by changing their behavior on the road and that you can see a significant increase in your premiums if you earn too many speeding tickets or moving violations.
While a speeding ticket may only cost you a few dollars initially, it will be reported to your insurance company and, if your insurance company is Liberty Mutual, it'll cost you an extra $1,000 per year if you started with a clean driving record. The easiest way to keep your insurance costs low is to maintain a clean driving record.
Compare over 200 auto insurance companies at once!
Secured with SHA-256 Encryption
Liberty Mutual's Coverage Options
Shopping for insurance isn't just about rates. It's also about the type of coverage you need for your car.
Liberty Mutual offers a variety of coverages, allowing drivers with all types of vehicles to meet their needs. Whether you need nothing more than the state minimum levels of insurance or full coverage for an entire fleet of vehicles, Liberty Mutual has the appropriate plan for you.
Liberty Mutual's Bundling Options
Below is a list of just a few of the types of auto coverage offered by Liberty Mutual:
Liability – This covers bodily injury or property damage caused in an at-fault accident. Even no-fault states require a minimum level of liability insurance. This is the most important coverage when it comes to protecting yourself financially.
Collision – Collision covers property damage for your car following an accident, typically when you were at fault. In a situation where someone else was at fault, this would typically be covered by their liability coverage or your uninsured/underinsured motorist coverage, but collision can still sometimes be useful in a not-at-fault accident.
Comprehensive – This covers damage to your vehicle that was not caused by a collision with another car, such as vandalism, hail, or hitting an animal.
Uninsured and underinsured motorist coverage – This covers expenses if you're involved in an accident with someone who's uninsured or carrying less liability insurance than they need to pay for the damage they caused.
Medical payments – This covers medical expenses for you and passengers in your vehicle, typically in the event of an at-fault accident but it can also be useful in an accident where someone else was at fault.
Rideshare insurance – If you use your vehicle to drive for Uber, Lyft, or another rideshare service, you'll need rideshare insurance.
Classic car insurance – If you own a classic car or a collector's vehicle, you'll need this special policy to protect it.
Motorcycle insurance – Because motorcycles are not included in your auto policy, this covers all the above, including additional accessories coverage, for motorcyclists.
RV insurance – This includes all the basic coverages listed above, including personal effects replacement cost and vacation liability, for drivers in an RV.
Liberty Mutual has several non-auto policies as well, so if you need renters insurance or boat insurance (or any other type of coverage) there is the possibility of a multi-line discount.
Liberty Mutual's Discounts
We described several factors in determining your rate in the sections above, but there are many other things that can and do impact your rate with Liberty Mutual. Below is a list of possible discounts available through Liberty Mutual:
Homeowner Discount
Military Discount
Early Shopper Discount
Good Student Discount
Student-Away-at-School Discount
Advanced Safety Features Discount
Alternative Energy Discount
Anti-Theft Device Discount
Violation Free Discount
RightTrack Discount
Multi-Policy Discount
Multi-Car Discount
Preferred Payment Discount
Pay-in-Full Discount
Online Purchase Discount
Paperless Policy Discount
For more information about how much you can save with the various Liberty Mutual discounts, check out the chart below:
Discounts can be changed or updated at any time, however, so make sure to check with the company to see what discounts they have in place when you are shopping for a policy.
Liberty Mutual's Programs
Liberty Mutual has several programs designed to help their customers make the best possible use of their coverage, including:
Liberty Mutual mobile app – The Liberty Mutual mobile app can be used to manage all aspects of your auto insurance, from paying your bill to filing a claim. The app allows you to access your ID cards, pay your bill, file a claim, and update your information, just to name a few.
Conquer Car Repair – Liberty Mutual not only offers a discount on car repairs if you use a mechanic in their Openbay network, but they have lots of videos and other resources online to answer common questions and show you how to perform basic maintenance to keep your car in good working shape.
TRUECar Car Buying Service – Liberty Mutual offers tips on buying a new car and a connection to TRUECar where you can save thousands off of the MSRP.
Liberty Mutual's Ratings
Reading a few reviews isn't enough to give you a complete picture of a company. How can you tell if a review is accurate, or even posted by a legitimate customer? Nobody has hours of time available to dig through a company's history online, either. It can be difficult and confusing to figure out exactly what a company offers and whether its reputation (good or bad) is justified.
To help you understand what it means to choose an insurance policy through Liberty Mutual, we've collected financial ratings from major review sites. The table below shows ratings for Liberty Mutual's financial strength and customer satisfaction, with an explanation of the ratings below.
For more detailed information about the ratings found in the table above, take a look at the sections below:
Liberty Mutual's A.M. Best
Multiple companies offer ratings for insurance companies, but A.M. Best is probably the oldest and most widely recognized company operating today. When ranking a company's financial strength, A.M. Best assigns ratings ranging from an A++ to a D. Liberty Mutual has earned an A rating from A.M. Best.
This means A.M. Best believes the company is relatively stable and probably won't have trouble meeting their financial obligations. While Liberty Mutual's rating is just fine, there are other companies that have much higher financial ratings, so it may be worth getting multiple quotes before purchasing a policy.
Liberty Mutual's Better Business Bureau (BBB)
The Better Business Bureau is a private, nonprofit organization that wants to make it easier for customers to judge companies they do business with based on consumer complaints.
Since these ratings are based mostly on complaint data, Liberty Mutual's rating of A- is amazing. It does not, however, mean that there are no complaints about the company.
While not all complaints are legitimate, if a company has a significant number of complaints or multiple reviews complaining of the same thing, it is worth considering this before making a purchase.
Since the BBB ratings are based on a number of factors and done by state, we selected California at random to provide you with a BBB ranking for the company in the chart above. You can go to the BBB website and search within your own state to find the most accurate information for your needs.
Liberty Mutual's Moody's Rating
Insurance companies have credit ratings to help you determine their trustworthiness when it comes to financial products and investments, much the same way an individual's credit rating is used to help companies determine their financial trustworthiness.
Moody's is known as one of the big three credit-rating agencies, providing ratings and debt-tracking analysis across the globe. Moody's rankings range from Aaa to C, with Aaa being the highest and C being the lowest. Liberty Mutual's rating with Moody is Baa2, placing them firmly in the middle of the pack.
The most recent data available for Liberty Mutual shows they have been given a Baa2 Insurance Financial Strength (IFS) rating, a stable outlook. Ratings falling in Moody's Baa range are considered to be medium-grade and subject to moderate credit risk.
Liberty Mutual's Standard and Poor's (S&P)
Like Moody's and A.M. Best, Standard & Poor's is also part of the big three credit-rating agencies. Just like A.M. Best and Moody's, a company's S&P rating indicates its financial stability and whether they can pay claims on time.
S&P ratings range from an AAA at its highest, to a D as its lowest. Liberty Mutual has earned a rating of BBB, representing an adequate capacity to meet its financial commitments.
Liberty Mutual's NAIC Complaint Index
Though the financial stability of a company is important, a company's customer service is just as important, if not more so, to their customer base. This includes complaints regarding the company.
An average NAIC complaint index for an insurance company is 1.5, but Liberty Mutual has a complaint index of 21.78, which is significantly worse than many of its competitors.
This can change over time, so it is important to check the current rating at the time of your purchase to make sure you are going by the most current information.
Liberty Mutual's J.D. Power
While they are linked, complaints and customer satisfaction are two distinctly different things. While NAIC has a complaint index, J.D. Power gives ratings based upon comprehensive consumer studies.
J.D. Power's 2019 U.S. Auto Insurance Study ranks car insurance companies by region, as well as measuring customer satisfaction in five areas: interaction, policy offerings, price, billing process, policy information, and claims.
With a J.D. Power rating of 808, Liberty Mutual comes in pretty low in customer satisfaction rankings, though they still outrank several other companies.
However, much like BBB ratings, J.D. Power rates based on region. So that our rankings are consistent, we chose the California J.D. Power rates for this article. You may need to research J.D. Power ratings for your region to get the most accurate information for your area.
Liberty Mutual's Consumer Reports
Consumer satisfaction is an important part of rating each insurance company. The 2017 ratings that Consumer Reports collected are reported below. These ratings are based on customer surveys, each representing the different services that Liberty Mutual provides.
According to Consumer Reports, Liberty Mutual is very good at making sure the claim process is as smooth and simple as possible for its customers. This may not seem like a huge deal, but insurance is one of those things you buy hoping you never need it. In the event you do, having a company that makes the process easy is extraordinarily valuable.
Read more: How long does it take for Liberty Mutual to process an auto insurance claim?
Liberty Mutual's History
Liberty Mutual was founded in 1912, but they didn't add auto insurance to their product lineup for another six years. Over the years the company has expanded significantly, offering insurance internationally and investing in safety by creating things like emergency stop switches for escalators, safety cars, and battery-powered prosthetic body parts. They also created Solaria Labs in 2016.
Liberty Mutual insures more than just cars and homes — the company currently underwrites the Statue of Liberty.
As of today, Liberty Mutual divides its business into three categories:
Personal Insurance Lines – Primarily personal home and auto coverage, but includes coverage for small businesses as well
Commercial Insurance Lines – Coverage for mid-to-large size businesses and specialty insurance
Liberty Mutual Investments – Globally invested financial assets
Liberty Mutual's Market Share
Most people don't really understand the concept behind a market share. What is it, exactly? And, more importantly, why does it matter?
A market share is defined as "representing the percentage of an industry, or a market's total sales, that is earned by a particular company over a specified time period." A company's market share is calculated by taking its sales during a specific time period and dividing it by the total sales in the industry during the same period of time.
Typically, the bigger the market share, the bigger and more influential the company is in the country. When you're talking about the size of an insurance company, you're essentially talking about its market share.
Liberty Mutual's market share is small in comparison to competitors like Geico and State Farm, but they are still a major player in the insurance industry.
Liberty Mutual's Position for the Future
In the market share chart above, you can see that State Farm is ranked number one in market share, but their direct premiums written increased by less than $200 million from 2017 to 2018. Liberty Mutual also increased their direct premiums by $200 million, but their market share went down slightly and they maintained the same overall ranking.
While the company is clearly innovative, they don't appear to be positioned to move to the head of the pack any time soon. They also don't seem like they are going to lose any ground, so they will probably stay right in the middle of the rankings for the foreseeable future.
Liberty Mutual's Online Presence
When it comes to having an online presence, Liberty Mutual is doing very well. Not only do they have their website set up so you can access your policy or get a quote, but they also have a mobile app. They give you the ability to reach out to an agent in your area for additional assistance.
Liberty Mutual has online vendor services, online claims services, customer service, online bill pay, and many other online services that give you 24/7 access to your insurance policy.
Liberty Mutual's Commercials
Some insurance companies use their commercials to focus on their policies and what separates them from their competitors. Others use their commercials to get your attention and try to create some name recognition with the general public. Liberty Mutual falls squarely in the second category.
While Geico may be the king of funny insurance commercials, Liberty Mutual certainly holds its own when it comes to memorable marketing.
In the last few years, they have introduced the Liberty Mutual (LiMu) Emu.
Liberty Mutual's advertisements are meant to be memorable so when you think about insurance companies, its name is the first to come to mind. In a world where people can share things they find amusing through email and social media, this seems to be a winning strategy.
Liberty Mutual in the Community
Community service may seem like a strange thing to think about when it comes to choosing a car insurance company, but a company that is active in the community not only builds goodwill and name recognition, it also shows that the well being of the community is important — and therefore cares about its customers.
In 2017, Liberty Mutual's employees volunteered 2,680,844 hours. The company also donated $40,636,577 to the Liberty Mutual Foundation and other charities.
Liberty Mutual's Employees
Part of taking an in-depth look at Liberty Mutual as a company includes learning about the company's employees. To do that, we reviewed the information at several employee sites.
In looking at Glassdoor.com, we discovered:
The average employee review for Liberty Mutual is 3.3 out of 5
Liberty Mutual was named one of Forbes 2018 Americas Best Employers for Women
Liberty Mutual was named one of Glassdoor's Top 25 Companies for Vacation and Paid Time Off
In looking at Payscale.com, we learned that:
Liberty Mutual employees rated the company an average of 3.3 out of 5 in overall satisfaction
Liberty Mutual employees have an average annual salary of $74,000, though the range of salaries is anywhere from $44,000 to $121,000 per year, depending on your position with the company
When it comes to gender, 51.1 percent of Liberty Mutual employees are men and 48.9 percent are women.
When reviewing Greatplacetowork.com, we learned that:
20 percent of Liberty Mutual employees have been there for less than two years, while 35 percent of employees have been there for 11 years or more
83 percent of Liberty Mutual employees say the company is a great place to work
Overall, Liberty Mutual employees seem to be well compensated and happy with their jobs.
Compare over 200 auto insurance companies at once!
Secured with SHA-256 Encryption
How to Cancel Your Liberty Mutual Policy
Sometimes you end up in a position where you have to cancel your policy. If you sold your car, you moved out of state, or you found a better deal somewhere else, follow the steps listed below to cancel your policy through Liberty Mutual.
Does Liberty Mutual charge a cancellation fee?
Each state has different laws about what can and can't be done when canceling an insurance policy, which means that you may or may not be charged a cancellation fee to terminate your policy.
If you have any questions about canceling your policy and whether or not you will be charged a fee, you can call Liberty Mutual directly at
1-800-658-9857.
Does Liberty Mutual offer a refund?
If you've paid for time in which you'll no longer be insured by the company, you'll be refunded that money. You won't be refunded for any time in which you were covered by the company, which means you can't backdate your cancellation unless you can provide proof that you had other active coverage at that time.
Liberty Mutual: How to Cancel (Step-by-Step Guide)
Canceling your policy with Liberty Mutual is a simple process. Simply follow the steps below:
Step 1 – Call Liberty Mutual
Your first step is to call the company at 1-800-658-9857. You'll speak with a licensed insurance agent who can help walk you through the process.
They will probably want to ask you a few questions, including why you're canceling your policy, so be prepared for that. Make sure you have all your identifying information along with your policy number and the specific date you need your policy to be canceled.
Step 2 – Surrender Your License Plates
Every state requires that you have insurance for your vehicle, so if you're canceling your policy without having another one in place, you'll need to surrender your license plates to the state as proof you no longer need to insure your vehicle. If you sold your vehicle, make sure you don't cancel your policy until you transfer the title.
Canceling by Mail
Canceling your policy by phone is easy and instantaneous, but you can also cancel your policy by mail if necessary. To cancel by mail, make sure to send the cancellation letter at least 30 days before your cancellation date.
The 30-day period allows Liberty Mutual to request additional information and gives you time to receive a confirmation before your cancellation date. You will need to provide proof you have obtained other coverage or surrendered your license plates to make the process as simple as possible.
The mailing address for Liberty Mutual is below, but you will want to call the company and make sure you are sending your correspondence to the correct address before mailing your letter.
​Liberty Life Assurance Company of Boston
100 Liberty Way
Dover, NH 03820
When can I cancel?
If you are wondering when it is appropriate to cancel your policy, you can cancel your policy when:
Your policy has ended
You have obtained other coverage
You have sold your vehicle
You're putting your vehicle in long term storage
Realistically, you're able to cancel whenever you like, but Liberty Mutual will be required to report to the state that you've canceled your coverage. You also may have a reason to maintain a policy depending on your circumstance, so it can help to speak to a customer service representative before cancelling your policy.
How to Make a Claim with Liberty Mutual
There are two ways to file a claim with Liberty Mutual:
Call the customer service department to file a claim by phone.
Use Liberty Mutual's online system to file a claim.
Filing a claim online might be the best option, as it allows you to upload police reports, photos from the accident, and other documentation.
Once you've filed your claim, it'll be given a claim number, and an insurance adjuster will be assigned to help you. Whether you report your claim by phone or online, you'll hear from your adjuster and they will help you figure out what steps to take next. You can even use the Liberty Mutual website to file a claim against a Liberty Mutual customer who was at fault in your accident.
Ease of Making a Claim
It is pretty easy to file a claim through Liberty Mutual. Once you've filed your claim, the adjuster will:
Review your insurance policy to determine what's covered under your policy
Contact every person involved in the accident, including passengers and witnesses, to determine what happened
If necessary, the adjuster will conduct a more detailed interview with each person involved to address any inconsistencies
Gather and review and additional information, including any pictures or documentation you may have uploaded with your claim
Premiums Written
Given just how large Liberty Mutual is and how long they have been around, it isn't surprising that they have written a lot of premiums.
The table above details the premiums written by Liberty Mutual. The table below compares Liberty Mutual's 2018 premiums written with several other major insurance companies.
Liberty Mutual isn't the largest company in the industry, but they are still a major player when it comes to auto insurance.
Loss Ratio
When we talk about Liberty Mutual's loss ratio, we're talking about their ratio of loss to gain, specifically how much Liberty Mutual is paying out in claims, versus the money they're earning from premiums.
A loss ratio of more than 100 means the company is paying out more in claims than what they're receiving in premiums, so Liberty Mutual's typical loss ratio in the mid-60's is good. It means that they're bringing in more money than they're paying out, but not so much more that their customers are being overcharged.
How to Get a Quote Online with Liberty Mutual
As the internet becomes more and more prevalent in people's day-to-day lives, insurance companies are working to develop a presence on the web. Drivers looking to get a quote from Liberty Mutual online can follow our step-by-step guide:
Step 1 – Go to the Liberty Mutual Home page
On the home page, you will see options right away to select the type of insurance you want a quote for. Simply select the type of insurance you want and go to the next page.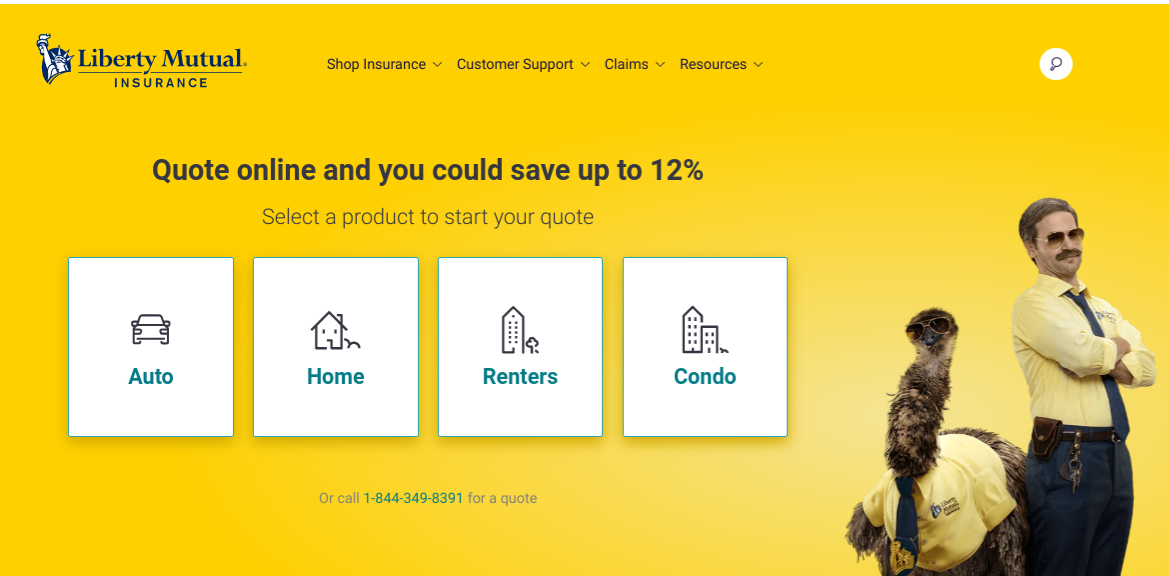 On the next page, you will enter your ZIP code to begin the process of getting a quote.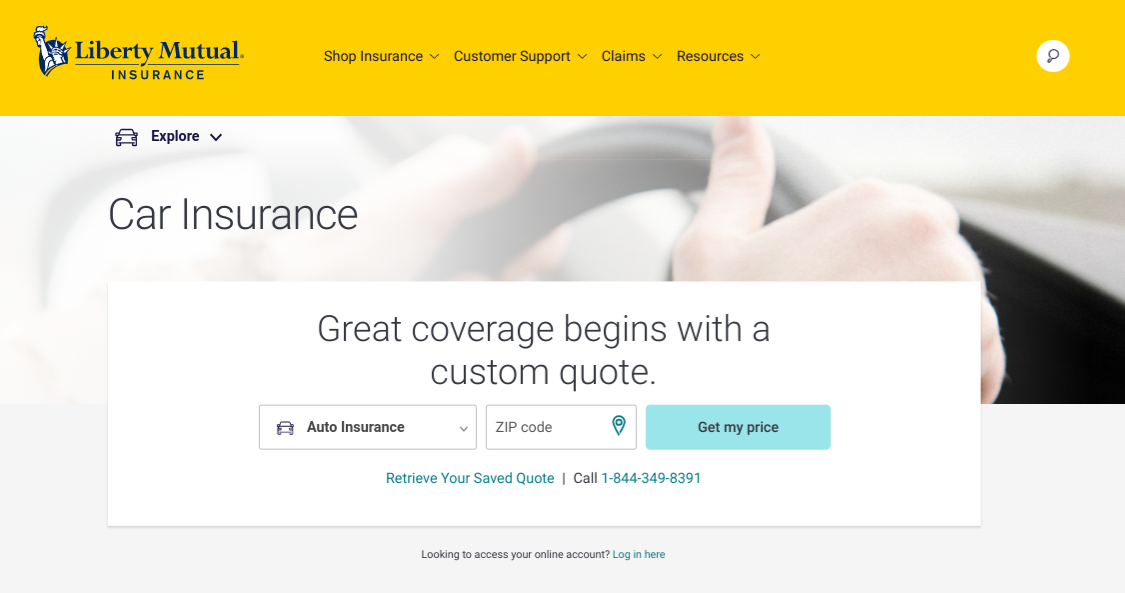 This is the starting point for your quote, so enter your ZIP code and push the Get My Price button to begin.
Step 2 – Enter Your Address
Immediately upon starting your quote, you'll be asked several questions to help Liberty Mutual determine what your premium will be if you sign up for a policy. To start, they'll ask for your address.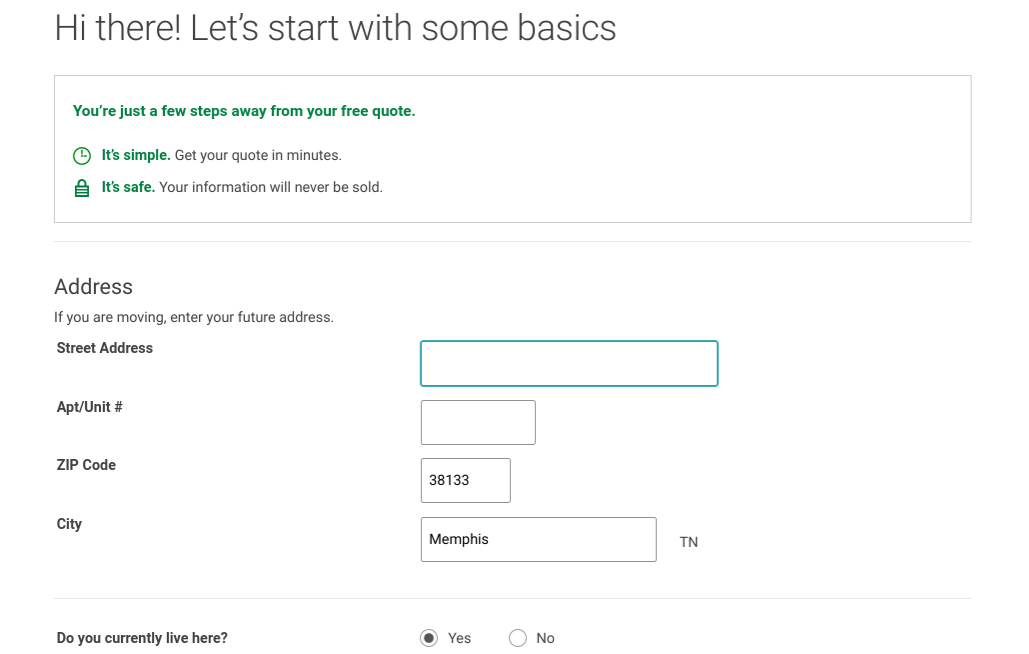 After they have your address they will ask for your name and date of birth.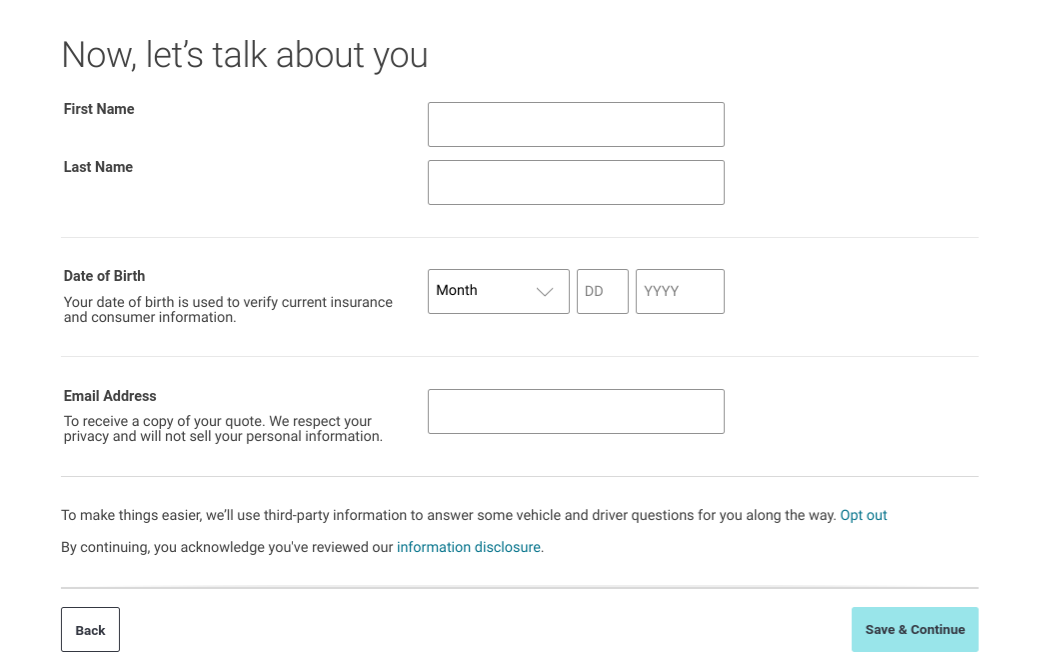 Once they have your identifying information (don't worry, they don't sell your private information) they'll start asking you questions about your car, your commute, your annual mileage, and other information they need to make sure they give you an accurate quote.
Step 3 – Add Any Additional Information
Next, you will add the information regarding your vehicle, any safety features it may have such as VIN etching or blind-spot warning systems, your average mileage per year, and other necessary information to provide you a quote.
If you have questions about the policy as you are going through the quote process, you can always use their help screen to explain your coverage as you go along.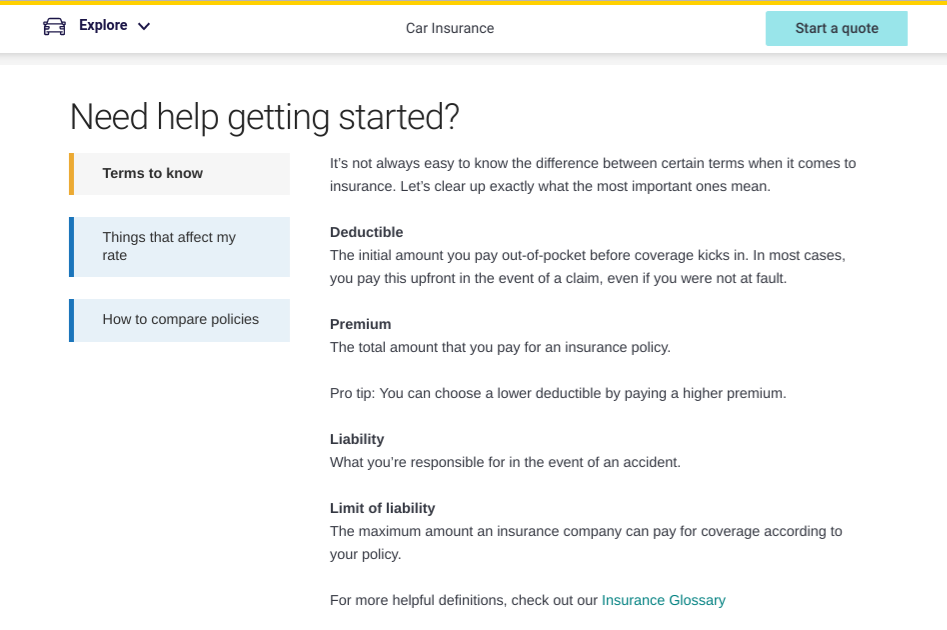 The questions about your vehicle, your insurance history, and your policy preferences will be spread across several screens to make it easy to understand and help make sure you don't miss any questions.
After you've answered all of their questions you will be given a quote for your monthly premium and a breakdown of all of your discounts and coverages so you can see exactly what you are paying for line-by-line.
Compare over 200 auto insurance companies at once!
Secured with SHA-256 Encryption
Liberty Mutual's Website and App Design
Given how vital the internet is in today's world, it isn't surprising to find that most insurance companies have a website and mobile app, and Liberty Mutual is no exception.
Website
Like most insurance websites, the Liberty Mutual website is designed to be simple, keeping the information on each screen minimal to avoid confusion or difficulty finding the information you need.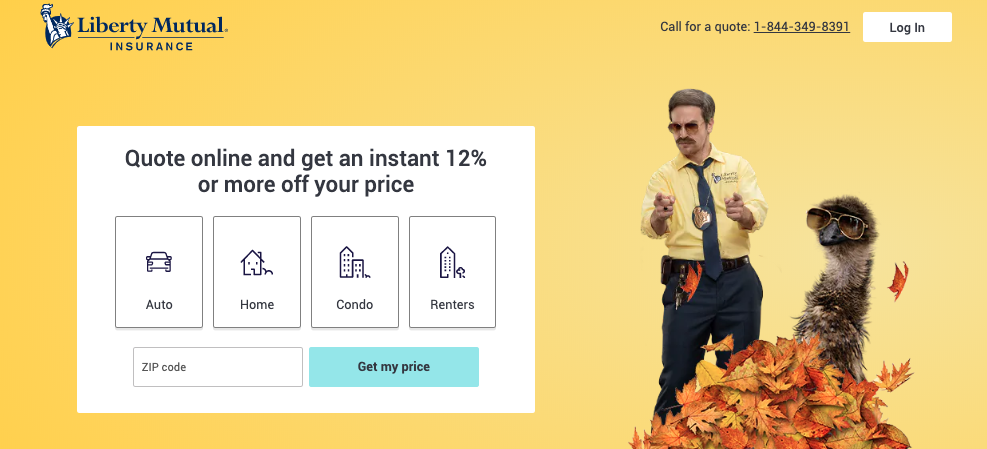 In the top right corner of the screen, Liberty Mutual members can click the login button to access their current policy. In the center of the screen, you can enter your ZIP code to get a quote or click one of the icons above to learn about a specific type of policy offered by Liberty Mutual.
How easily can you find answers?
The answers to your questions about Liberty Mutual and their policies are typically easy to find on their website. However, if you're trying to find an answer and you just don't see it online you can always call their customer service department at 1-800-658-9857.
Is the design a plus or minus?
The design of the website seems to be largely positive, though there are some things that cause people to complain.
While the layout is designed to be simple and easy to understand, it is less intuitive than other websites. Geico, for example, has a website that is easy to understand and navigate, while Liberty Mutual takes a bit longer to figure out as you go along.
The upside to Liberty Mutual is that it only goes through about 10 pages to get a quote, while Geico takes well over 20 screens to go through the quote process.
The Liberty Mutual mobile app is available for free, both through the Apple Store and the Google Play Store.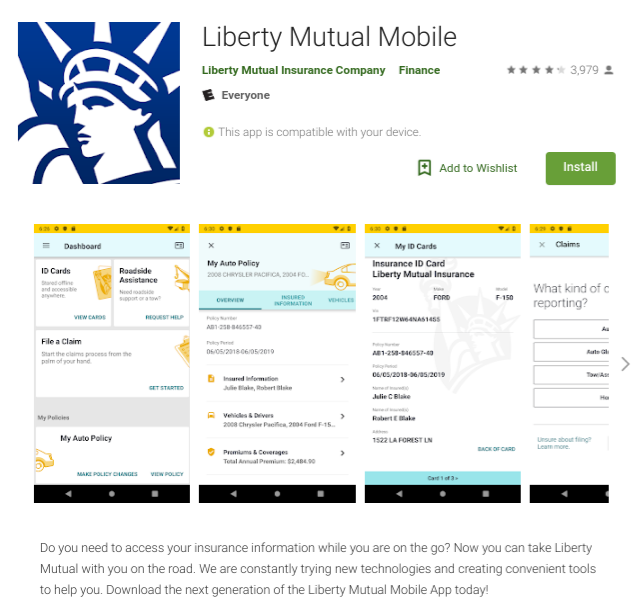 You can use the app to take care of a variety of tasks, including paying your bill and monitoring a claim.
Many insurance companies, including Liberty Mutual, offer a discount to people who sign up for an app that tracks you while you drive. It reports back to Liberty Mutual to let them know if you're traveling the speed limit, texting while driving, etc.
While it does offer the ability to save a fair amount on the cost of your car insurance, some people find this invasive and still others may find that their driving doesn't meet the standards set by Liberty Mutual and end up not receiving a discount at all, so think carefully before you sign up for this option.
How easily can you manage your account using just the app?
The mobile app is just as good as the website, maybe even better because it gives you access to your policy anywhere, not just in front of your computer.
You can get a quote, purchase a policy, view your ID cards, file a claim, and so much more directly through the mobile app, such as:
View policy details and make changes
View and save auto insurance ID cards
Electronically sign documents
Pay bills/set up automatic payment plans
Call Emergency Roadside Services
Take pictures of auto damage
Report and track claim
Find repair shop and request a rental vehicle
Track vehicle repairs
The app gives you the ability to manage your policy completely from your phone.
Is the design a plus or minus?
The design of the mobile app is highly regarded by most of Liberty Mutual's customers, earning four- and five-star reviews on the Google Play store. The only real complaint about the app is that some people have difficulty making the app work, but the vast majority have no problems at all.
Liberty Mutual: Pros and Cons
Now that we've reviewed all the things you need to know about choosing a policy through Liberty Mutual, let's review some of the pros and cons:
Customers who want to save money on car insurance may want to consider quotes from several companies, as Liberty Mutual's rates are a bit higher than some of the nation's other top auto insurance providers.
In terms of its financial health, industry experts agree that Liberty Mutual has proved itself to be relatively stable and reliable, though they do not receive the highest financial ratings from any of the various rating agencies.
While Liberty Mutual offers numerous discounts, there are some standard discounts that aren't available through the company, so it is worth checking with multiple companies before you make a purchase.
Finally, although Liberty Mutual never comes in at the top of the J.D. Power and Associates ranking, they aren't at the bottom, either.
The Bottom Line
It is clear that Liberty Mutual understands their customer's wants and needs. Despite their higher-than-average costs, they have a variety of coverage types and an easy-to-use web and mobile app, meaning Liberty Mutual's services may be worth the cost.
In spite of a few shortcomings, Liberty Mutual shows itself to be a consistent and reliable company.
Compare over 200 auto insurance companies at once!
Secured with SHA-256 Encryption
Liberty Mutual Car Insurance FAQs
That is all the information you should need to know about choosing a policy through Liberty Mutual. If, however, you still have questions about Liberty Mutual, check out our frequently asked questions below.
Can I get copies of my ID card online?
Yes, you can view, print, or request that an ID card be mailed to you through Liberty Mutual's website. You can also pull up your ID and other plan information through the mobile app, so you may not need to order a new ID card if you have access to the mobile app.
Can I pay my bill online?
Yes, you can pay your bill through the Liberty Mutual website or the mobile app. You can also choose to have your monthly premium automatically withdrawn from your bank account to make it easier to get your bills paid on time.
Does Liberty Mutual's coverage include windshield repair?
Yes, it does. Typically glass damage is covered under your comprehensive coverage, but plans can be different and state laws vary, so contact Liberty Mutual directly if you have questions about a possible glass claim.
How much coverage should I buy?
This depends on your state's minimum requirements and your budget. When you go through the Liberty Mutual quote process they will help you determine which plan is right for you.
Keep in mind that your coverage level should be about more than just your budget. If, for example, you have a significant amount of assets that could be lost in a court case, having more liability coverage could be a necessity.
On the other hand, if you have an older vehicle, you might be tempted to avoid comprehensive and collision coverage, but if you can't afford to replace your vehicle you might need to consider whether those coverages could be right for you.
Does Liberty Mutual cover damage caused by flooding?
Yes, Liberty Mutual covers flood damage under your comprehensive policy. You'll need to review the details of your policy to find out exactly how flood damage is covered.
Will my policy cover a rental car?
All rental car companies can and do offer insurance coverage for the time you're renting your car, but is it possible to avoid the charge for the extra coverage if you have your own auto insurance policy?
You can choose to have rental car coverage included in your Liberty Mutual auto policy, but it isn't automatically included with your coverage. You can also check with your credit card company to see if they include insurance for a rental car if you pay for the rental with that card.
Read  more: What is Liberty Mutual's policy on rental car coverage during the claims process?
Can I get a good student discount?
Good student discounts are available to students with a B average or higher.
What discounts am I eligible for through Liberty Mutual?
It can be hard to know which of the Liberty Mutual discounts are available to you. Liberty Mutual offers a summary of your eligible discounts when you apply for a quote online. This will give you can have a better idea of the types of savings you will receive. If you end up purchasing coverage through Liberty Mutual, make sure to review all discounts to make sure none are missed.
If you want to start comparing rates in your area today, enter your ZIP code in our FREE online tool below.
References:
https://eapps.naic.org/cis/help.do
https://www.consumerreports.org/cro/index.htm
https://www.libertymutualgroup.com/about-lm/corporate-information/overview
https://www.glassdoor.com/Overview/Working-at-Liberty-Mutual-Insurance-EI_IE2874.11,35.htm
https://www.libertymutual.com/mobile-app
https://www.libertymutual.com/masterthis/conquer-car-care
https://www.libertymutual.com/masterthis/car-shopping
https://www.libertymutual.com/claims-center
https://play.google.com/store/apps/details?id=com.lmig.pm.internet.mobile.android.libertymutual&showAllReviews=true
https://www.libertymutual.com/commercials
Reviews

for Liberty Mutual Insurance