SR22 Form: What is it, and Why do I Need It?
Maybe it was a night of hard partying, and you were caught by your local traffic police for Driving under Influence (DUI) as you make your way back home. Or perhaps you grazed one car too many, or were caught for not having an auto insurance while driving. Whatever the reason, the Department of Motor Vehicles has suspended your driving license. After calming yourself down, you read the letter, and see a ray of hope: to reinstate your license, you will just need to submit a SR22 Form from your insurer.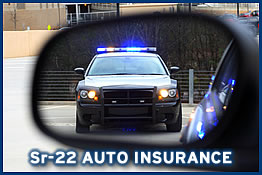 "That's easy", you exclaim! Then, as you grab your coat and prepare to get that SR22 Form, and your driver's license back, you stop at the doorway, and ask, "Wait, what IS a SR22 Form?"
What is the SR22 Form?
The SR22 form is, simply put, a form that is issued by your insurer, certifying that you are at least covered by the minimum coverage in your auto insurance policy. This form is sent to your local Department of Motor Vehicles for approval. Once this tedious process is through, you'll be able to drive again!
There are states that do not require the SR22 Form to be submitted. Currently, only New Mexico, Delaware, Oklahoma, Pennsylvania, New York, North Carolina, Minnesota and Kentucky fall under this category.
Why do I need an SR22 Form?
The SR22 Form is only required by drivers identified by the local Department of Motor Vehicles. This group of drivers includes drivers who were caught on the roads without proper auto insurance coverage, were involved in too many minor auto accidents (the exact number varies from state to state) or were caught for DUI.
If you fall under this category, you'll be required to file a SR22 Form. The state has identified you as a high-risk driver (i.e. you have a higher propensity of causing accidents compared to other motorists), and you will have to be certified by your insurer that you have been properly covered by the appropriate auto insurance package. It may seem a tad too derogatory, but it's to protect the motorists on the road – it makes sure that the parties involved in an auto accident will be properly compensated, as the damages (or part of it) will be borne by their insurers.
How do you get your SR22 Form from your insurer?
So, you've decided to get the proper auto insurance coverage for yourself, and are prepared to pay the additional charges for the SR22 Form. However, you may be clueless about how to do this. Well, fret not; follow the steps below, and you'll be on your way to reinstating your driver's license!
Call up your insurance agent (or contact a new insurance company if you are not insured beforehand) and say that your driver's license has been revoked. The auto insurance company will assess your risks, and provide you with new quotes for your new insurance policy. Take note: you MUST tell them that you need an SR22 Form – legislation dictates that it is the driver's responsibility to submit the SR22 Form to the Department of Motor Vehicles.
The insurance company will draw up their quotes for you. Do note that your premiums will be much higher this time round – after all, you did prove that you're a high-risk driver.
The insurance company might reject your application for their auto insurance packages. If that is the case, you will have to find another company that will insure you. Alternatively, you can go to the Department of Motor Vehicles to get a list of the insurance companies participating in the "assigned risk" program. These companies will definitely be willing to provide you with auto insurance coverage.
Next, when you have agreed to purchase the policy at the prices quoted by your insurance company, you'll be issued an SR22 Form. Complete it, then send it up to the Department of Motor Vehicles.
The administrative process may take up to 30 days. Thereafter, rejoice, as your driver's license will be reinstated. Yay!
It is noteworthy that certain coverage, such as the comprehensive coverage and collision coverage, will be much pricier when you are identified as a high-risk driver. As such, it might be more economically viable to just purchase the minimum liability coverage in your auto insurance package.
The procedures may be troublesome, and the costs may be a lot higher, but this is what you must do to get your driver's license back. Fret not; in most states, you'll not be required to maintain your SR22 Form after 3 years. So until then, drive carefully!