State Farm Auto Insurance Review [2021]
State Farm auto insurance reviews find the company to be the largest and most popular auto insurance provider in the country. Start Farm auto insurance ratings are "A+" with the Better Business Bureau and "A++" with A.M. Best. Many drivers find affordable coverage with State Farm, especially when they take advantage of State Farm auto insurance discounts. But don't follow the crowd without doing your own research. Enter your ZIP code below to compare State Farm auto insurance quotes against other providers in your city so you know you're paying the fairest price for coverage.
Free Auto Insurance Comparison
Secured with SHA-256 Encryption
No matter where you are in life, we are here to help. So says State Farm. Perhaps, you're more familiar with their motto, "Like a good neighbor, State Farm is there."
Whatever you think of State Farm, one thing is for sure, a lot of people use them as their preferred insurance provider. In fact, State Farm is the largest insurance company in the nation, followed by Geico and Progressive.
Does having a lot of assets and customers still make them a good neighbor? Well, that's what we're here to find out. In this comprehensive guide, we're going to show you everything you need to know, including company history, ratings, coverage options, and more.
Do you want to start comparison shopping today? You can take advantage of our FREE online tool to start comparing rates in your area.
Let's get started.

State Farm Car Insurance Rates
We partnered with Quadrant Data to bring you the following information. Here are two things to keep in mind.
Many variables can affect what you pay. Your rate may differ from what is listed below.
State Farm has discounts and options that may help offset the cost.
State Farm Availability and Rates by State
State Farm is available in every state. Their rates vary, sometimes below and sometimes above average, and can be further affected by factors like driving record and credit history.
In the table below, we show you the rates for State Farm compared to other top companies in every state in the country.
Michigan has the highest insurance rates in the nation, while Hawaii has the cheapest rates.
Comparing the Top 10 Companies by Market Share
State Farm is the largest insurance company in the nation, holding 17 percent of the market. That's 4 percent higher than the second largest company in the industry.
But how do their rates compare against the other top companies? The table below shows rates from State Farm and its competitors.
As the data reflects, State Farm leads the way among the top insurers for having the cheapest rates. USAA overall is the least expensive, but the company only represents those in the military and their families.
Average State Farm Male Versus Female Car Insurance Rates
The graph and table below shows how State Farm's annual rates based on demographics compare to other top insurance providers in the nation. These averages are national, so where you live could affect your rates.
As of August 1, 2019, California, Hawaii, Montana, Pennsylvania, North Carolina, and places in Michigan have made it illegal for car insurance companies to base a rate on gender.
As the data reflects, single, 17-year-old males usually pay the most for car insurance.
Average State Farm Rates by Make and Model
What car you drive can also impact your car insurance. Below, we show you what you can expect to pay for five specific models from State Farm and its competitors.
As the data reflects, the 2015 Toyota RAV4 is the least expensive vehicle to insure on our list. State Farm has the third-least expensive rate for this vehicle when compared to the other company rates on our list.
Average State Farm Commute Rates
If you drive more than 12,000 miles a year, you may also see your car insurance rates start to rise. Conversely, lots of companies offer work from home as an option so that you could be driving less. Let's check out the rates for State Farm and the other top 10 companies.
State Farm policyholders can expect to pay the third-highest rates when it comes to their commute. Other factors, such as living in a rural or urban area, can contribute to the cost of your insurance. Be sure and check with your insurance provider if your daily commute changes to see if a rate reduction may be in order.
Average State Farm Coverage Level Rates
You might think that having the lowest minimum coverage in your state is the best way to ensure you and your family are protected. But that's not necessarily the case, because sometimes the difference in low to high coverage is less than you think. Also, if you drive a more expensive car, you may want to have higher coverage in case of an accident.
Check out the table below to see the differences in coverage.
With State Farm, the difference between low and high coverage is only $400. If you are considering upgrading to provide more coverage for your family, the cost is roughly $33 monthly, which is negligible considering the peace of mind it provides.
Average State Farm Credit History Rates
Besides not being able to secure a car loan or rent an apartment, poor credit can also have an impact on how much you pay for car insurance. The table below reflects what you'll pay for car insurance if you have good, fair, or poor credit. Of course, these are estimates, and your rates may be different based on your situation.
The average credit score in the U.S. is 675. If your credit score is lower than this, you may face increased rates on car insurance. With some companies, poor credit can increase your premiums by thousands. On average, with State Farm, poor credit can raise your rates by $2,700.
Average State Farm Driving Record Rates
If you get a speeding ticket, have an accident, or get a DUI, your rates with State Farm will increase in most states. The table below shows rates with these three violations compared to the rate for a clean record.
One speeding violation with State Farm can raise your rates over $400. Our best advice is to obey posted speed limit signs and never drink and drive.

Compare over 200 auto insurance companies at once!
Secured with SHA-256 Encryption
Coverages Offered
State Farm offers the same coverage as all of the other companies do and, in some cases, at a competitive rate. In this section, we're going to look at standard insurance terms and go into detail about what they mean.
Below, we've compiled a list of common coverages with a brief explanation. Different coverage types fall into four basic categories: at fault, no fault, vehicle protection, and personal protection.
State Farm's extensive list of auto insurance coverages means you can tailor a car insurance plan to meet your needs.
Additional car insurance options include:
To add to these standard options, State Farm goes a step further and offers a couple of specialty options:
Rideshare Coverage – coverage for anyone working for a ridesharing service (such as Lyft or Uber)
Loan/Lease Payoff Coverage – coverage that helps you pay off the loan/lease of your vehicle if it were to be totaled during a wreck
State Farm's Bundling Options
State Farm talks a lot about bundling. You can bundle auto and homeowner insurance. Also, renter's insurance and motorcycle insurance. Whatever you need to insure, be sure and speak to an adviser about your options.
Bundling with State Farm can save you hundreds of dollars on your insurance premiums.
State Farm's Discounts
We all love good neighbors, but what if that neighbor can save you money? Check out the table below to see the discounts and how much you can save with State Farm.
As the table reflects, there are several ways to save on your premiums with State Farms. One of the simplest ways is to watch your speed and avoid traffic citations.
According to State Farm, these seven factors determine auto insurance premiums:
Your policy and deductibles
The vehicle model you drive
How often you drive, and how far is your commute
Your geographic location
Your driving record
Your credit history
Your age, sex, and marital status
These factors are common among all insurance companies, but new laws and regulations are being passed which have changed some of how companies can determine your rates.
Getting the Best Rate With State Farm
The easiest way to ensure you are getting the best rate with State Farm is to speak to an agent about what your insurance needs are and how much you can afford to spend. Some factors, such as where you live and your past driving record, are beyond your control, but be sure and ask about any of the discounts mentioned above.
State Farm's Programs
Wondering about additional ways to save on auto insurance? Consider one of State Farm's insurance programs. The following video explains more:
https://youtu.be/3VmtFLyjj2c
Another excellent way to save money on car insurance rates with State Farm is its State Farm Steer Clear® Safe Driver Discount for young drivers. Both of these programs can save you hundreds, perhaps even thousands, of dollars on your car insurance premiums.
State Farm also offers banking services. You can open a new consumer Money Market Savings account with Banking Benefits that has a deposit introductory annual percentage yield (APY) of 1.85 percent. Limitations apply.
The company also offers opportunities for home and auto loans, too. Check with your agent or visit them online to see if their services are right for you.
Rating Agency
State Farm says they're a good neighbor, but let's see what other independent agencies have to say about them and whether it's the right company for your insurance needs. Comparing the pros and cons is an important factor in determining which auto insurance company is best for you.
That's a lot of information to cipher through, so in the sections below, we're going to explain who the rating agency is and what their scores mean to you as a customer of State Farm.
A.M. Best
An A.M. Best rating measures the financial stability of a company, with A++ being the highest possible rating. State Farm has an A++ rating, which means the provider has a stable financial future and superior ability to meet ongoing financial obligations.
Better Business Bureau (BBB)
This rating from the Better Business Bureau looks at multiple aspects of a company, although the most critical element is the company's complaint history. Complaint history shows how satisfied customers are with the service they receive.
State Farm earned an A+, which is the highest rating the Better Business Bureau gives to companies.
Moody's Rating
Moody's rating looks at how well a company can pay off its debts (its creditworthiness). The agency gives State Farm an Aa1 rating which falls into the P-2 category. This score demonstrates that the entity's obligations are of "high quality, and subject to very low credit risk."
Standard & Poor's (S&P) Rating
What does a rating from Standard & Poor's mean? This video explains more.
S&P's rating of State Farm is good, though the best grade is AA+. This AA rating means that the insurance giant has a strong capacity to meet its financial commitments. It differs from the highest-rated companies by only a small degree.
NAIC Complaint Index
The National Association of Insurance Commissioners (NAIC) measures the number of complaints a company receives. In 2018, State Farm's complaint ratio was 0.57 and below the national average of 1.51. One thing to consider is that your experience may be better or worse than these ratings based on your insurance needs.
J.D. Power
Another rating to look at when searching for an insurance company is customer satisfaction levels. J.D. Power rate businesses solely on customer satisfaction levels. State Farm received a score of 829 in providing a satisfying purchase experience, ranking it in the top 10 among auto insurers.
The table below shows rankings for State Farm from across different areas of the United States.
Satisfaction rates vary by state, but customers in the Southwest region (Arizona, Colorado, Nevada, New Mexico, and Utah), rated State Farm "the highest" Power Circle Rating distinction — "Among the Best."
Consumer Reports
Consumer Reports is an independent nonprofit company that utilizes customer insight to help inform purchase decisions. The company received a Consumer Reports reader score of 89 out of 100.
The table below shows how well State Farm performed in several categories.
With customer satisfaction like these, it's no wonder State Farm is the leading car insurance company in the country.
Company History
State Farm was founded in 1922 by insurance salesman and retired farmer George Jacob (G.J.) Mecherle in Bloomington, Illinois. Mecherle created the company to help people manage the risks of everyday life, recover from the unexpected, and realize their dreams.
The company is the largest insurer in America and offers over 100 products and services in five different lines of business. According to State Farm, the company shows its commitment to its customers by handling over 36,000 claims per day.
Why should you care about the history of State Farm? Because looking at a company's history gives you essential data about how successful the company is and what the future looks like.
Up next, we are going to dive into everything from the company's market share to its awards and accolades.
State Farm Market Share
What do we mean by market share? Market share represents the percentage of an industry or a market's total sales earned by a particular company over a specified time.
Market share is calculated by taking the company's sales over the period and dividing it by the total sales of the industry over the same period. This statistic is used to give a general idea of the size of a company in relation to its market and its competitors.
In the graph and table below, we show State Farm's market share of liability and property damage from 2015–2018.
As the data reflects, the total market share percentage has decreased from 2015–2018.
State Farm's Position for the Future
Here are some facts about State Farm's future:
Several organizations not only continue to affirm State Farm's financial health, but they also continue to place a great deal of confidence in its abilities to meet its financial obligations. The company handles over 36,000 claims per day.
Customers are satisfied with State Farm's overall experience, even though some regions rated the company as "About Average" in J.D. Power's study.
Although Geico continues to grow its market share, it still has a long way before it catches up to, or overtakes, State Farm as the largest insurance provider in the United States.
As long as State Farm continues to provide excellent customer service and maintain its present course, it will remain the largest insurance provider for the foreseeable future.
State Farm's Online Presence
State Farm has several options if you want to access information or get in touch with someone about your car insurance policy.
Online – You can find quotes and more online at the State Farm website.
Agents – You can talk to agents by texting, calling, or emailing.
Apps – State Farm offers a mobile app through which you can access your policy information and contact agents.
However you prefer to conduct business, State Farm has every option available to help you and your family stay protected.
State Farm's Commercials
Car insurance companies do whatever it takes to grab your attention through humor, what-if scenarios, and emotional bonding. State Farm is no exception. Check out some of the company's greatest commercials over the last few years:
Who can forget the late-night chats with Jake?
This commercial features Chris Paul and Alfonso Ribeiro :
And here's Jake suggesting an upgrade:
State Farm continues to lead the way among the insurance giants, so their advertising philosophy seems to be working.
State Farm in the Community
Like a good neighbor, State Farm is there, but are they involved in the community? State Farm is challenging itself to do 100 Acts of Good before its 100th anniversary in 2022.
Other ways State Farm is helping the community:
Auto and home safety programs and activities
Disaster preparedness and recovery programs and services
Education; economic empowerment; and community development projects, programs, and services
State Farm encourages its employees to get involved in their community, and the simplest way is to start.
State Farm's Employees
We know State Farm is a good neighbor, but what do the employees think? Let's take a look at what employees think of State Farm through employee rating agencies Glassdoor and Payscale. This will give us insight into the company's values and employee satisfaction levels.
Here are Glassdoor's ratings:
The average employee review for State Farm is 3 out of 5.
State Farm employee reviews helped the company earn an impressive distinction — being named to Glassdoor's "Best Places to Work Employees' Choice" list in 2011, ranking 38th.
Only 38 percent of employees approve of the CEO.
Employees have given the company an average rating of 3.1 out of 5 in Overall Satisfaction.
Employees gave State Farm the highest marks in Manager Relationships (4/5), followed by Manager Communication (3.8/5), and Learning and Development (3.6/5).
As with most large companies, it appears State Farm employees have had their fair share of both positive and negative experiences. Your interactions with the company may be better or worse.
Let's move on to see what awards State Farm has won for being the largest insurance company in the country.
Recent awards include:
2019 Top 100 Most Military Friendly Employer
2019 National Recognition for Equality
2019 Top Companies for Executive Women
2019 Most Admired Company by Fortune Magazine
Compare over 200 auto insurance companies at once!
Secured with SHA-256 Encryption
Canceling Your Policy
Over time, there may be occasions when you may need to cancel or adjust your insurance policy with State Farm. Here are four examples which may apply to you:
Selling a car and not replacing it
Storing a classic or antique vehicle
A teen is heading to college and will no longer be driving the vehicle
A vehicle has been paid off and no longer requires comprehensive coverage
In the following section, we'll go over how to cancel an insurance policy with State Farm.
Cancellation Fee
You can cancel your insurance policy at any time, just make sure you have another policy in place before canceling your current one. Remember, when you cancel your policy, everything is up to you — you can pick the date and time when the canceled policy will expire.
There is no cancellation fee to cancel your policy with State Farm.
Is there a refund?
If you cancel your insurance policy early or you have not filed a claim since you've had your current car insurance policy, State Farm will give you a pro-rated refund.
While State Farm does not have cancellation fees, drivers are required to have another insurance policy before canceling their current auto insurance policy.
How to Cancel
State Farm allows you to cancel your policy by phone, by mail or fax, or in person.
Here's how to cancel by phone:
You'll typically need to have the following: policy number, name, date of birth, and Social Security number. If you're canceling because you've sold your car, you'll likely need proof of your vehicle's plate forfeiture or bill of sale.
Cancellations by phone are typically valid immediately, or you can schedule it for a date in the future.
Many states require you to inform the DMV when you cancel or change your auto insurance. Check your state's guidelines.
If you're switching providers, you may need to provide your new provider's name, policy number, and effective date.
Here's how to cancel by mail or fax. Write a letter that includes:
Your name, address, and phone number.
Your State Farm policy number and the date and time you want your policy to end.
If you're switching providers, your new insurer's name, policy number, and policy start date.
If you've sold your vehicle, proof of plate forfeiture, or your bill of sale.
Sign, date, and mail your letter at least two weeks before your intended cancellation date to:
Corporate Headquarters
State Farm Insurance
One State Farm Plaza
Bloomington, IL 61710
Or send a fax to 1-888-633-0405 or 1-905-750-5002.
Here's how to cancel in-person. Bring the following:
Your name, address, and phone number.
Your State Farm policy number and the date and time you want your policy to end.
If you're switching providers, your new insurer's name, policy number, and policy start date.
The good news with State Farm is they make it easy to cancel your policy, no matter which way you choose to do so.
When can I cancel?
You can cancel your insurance policy with State Farm at any time, but make sure you have new coverage on your vehicle before your current plan expires.
How to Make a Claim
Oh, no! You've been involved in an accident and need to file a claim. How does that work? In the next section, we're going to discuss the steps with filing a claim if you have State Farm insurance.
Ease of Making a Claim
Claims can be filed with State Farm in multiple ways.
Here's how to file online:
You can also file a claim by calling 1-800-SF-CLAIM (1-800-732-5246) — which is available 24/7, by contacting your agent, or with the mobile app.
When you make a claim, you'll need the following:
Date and time of the incident
Vehicles involved
Description of the incident
Description of damages
Location of incident
Now that we've shown you how to file a claim, let's look at how State Farm pays out claims to its customers. Loss ratios can give us some insight into the answer to that question.
Premiums Written
The information below comes from the NAIC and shows the premiums written by State Farm compared to its competitors from 2015–2018.
As the table reflects, State Farm's Direct Premiums Written have increased consistently over the look-back period
Loss Ratio
Another statistic shown in the table above is loss ratio. What is loss ratio, and how does it relate to State Farm and its relationship with its customers?
The video explains more:
While direct premiums written have increased over the period, loss ratios have dropped over the same timeframe. This is good news for customers because it shows the company has done well with balancing earned premiums and paid claims.
How to Get a Quote Online
Ready to get a quote? Up next, we are going to show you how to get a quote online in simple, easy-to-follow steps.
Step 1 – Who is State Farm?
Find out who State Farm is and what they are all about. You can find this information on their About web page.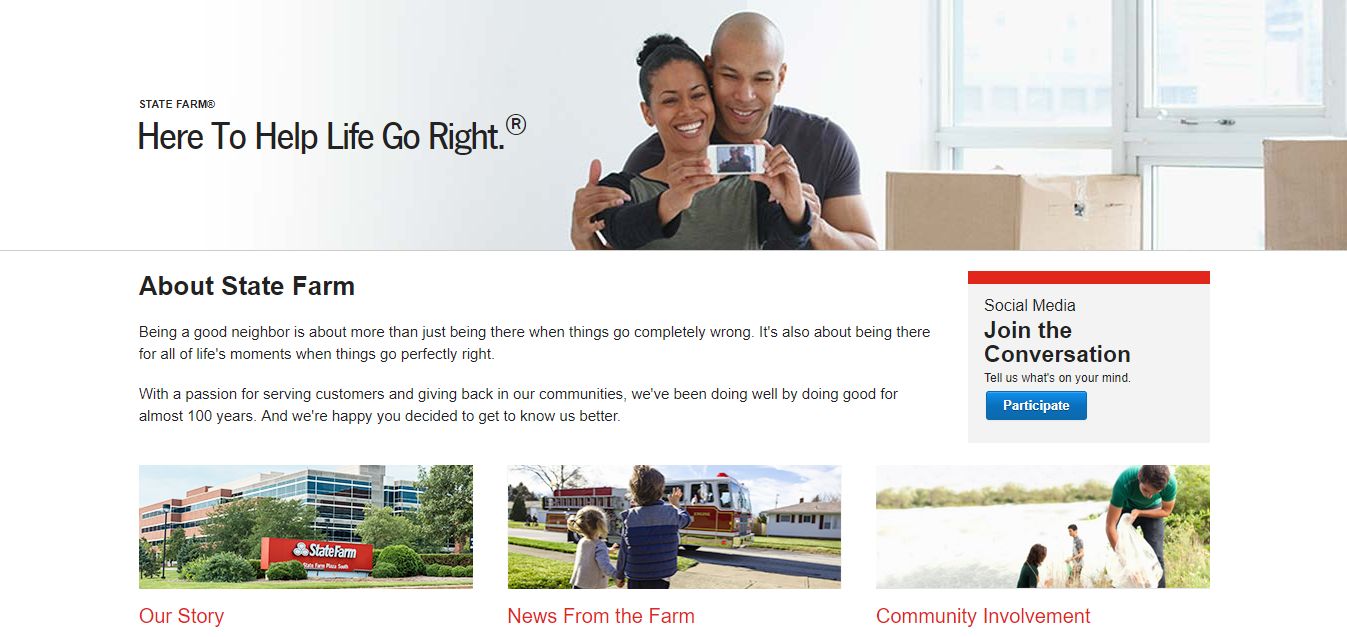 Just like any company or product, it's always best to do your research before purchasing a policy. Read about State Farm's history, values, and more on their About Page.
Step 2 – Enter your ZIP Code
Once you've done your research, it's time to decide what insurance you need and to enter your ZIP code. Entering your ZIP code will put you in touch with an agent that is able to sell you insurance in your area.
Step 3 – Enter your information
Enter your name, address, date of birth, and when you'd like your policy to begin.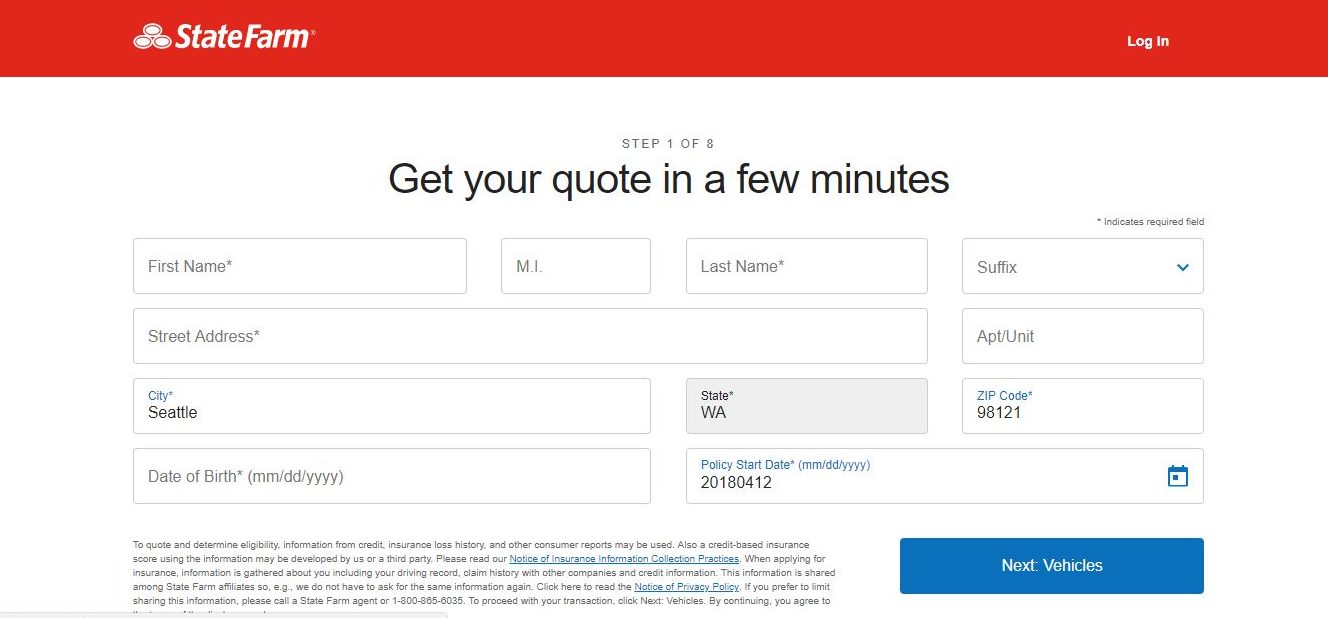 Then click "Next: Vehicles" to proceed to the next step.
Step 4 – Agree to the Private Policy.
Before you click "agree," make sure you read through State Farm's terms and conditions.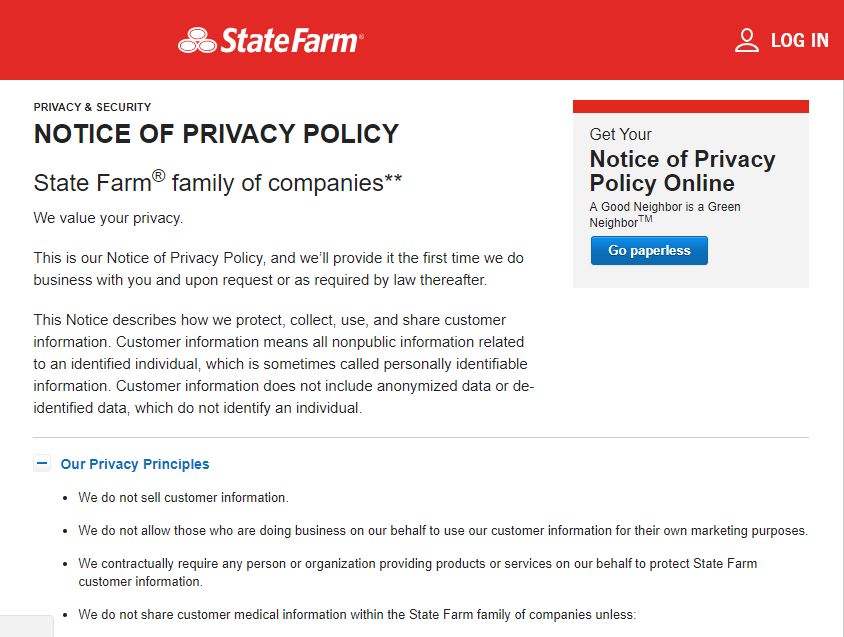 Before you proceed, take a look at State Farm's privacy policy and make sure you agree to their terms and conditions. You can click on the "Notice of Privacy Policy" and learn about State Farm's privacy principles, how they use the customer information they collect, and how that information is used.
Step 5 – Have Your Vehicle Information Ready
Have your vehicle registration, driver's license, and Social Security card ready when you're filling out the additional address and vehicle information section.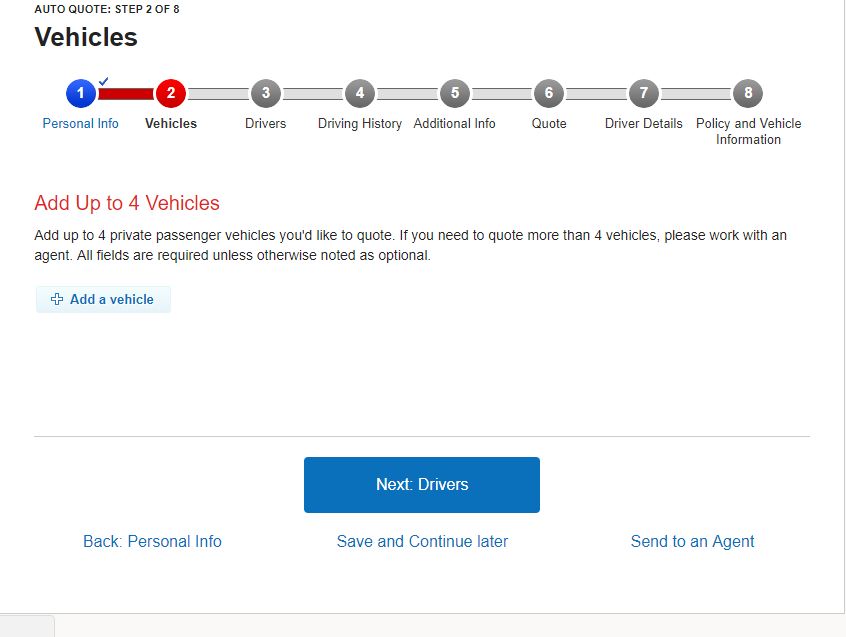 You'll want to add specific information about the vehicles you wish to insure. By providing this data, State Farm can show you particular rates for your state and your car's value.
Step 6 – Send Your Info to an Agent or Save Your Progress
Once you've filled out all of the information needed, such as vehicle make, and model, driver details, and more, all you have to do is send your information to an agent. If you are not finished and would like to come back later to complete your quote, click on the "save and continue later" button.
You're almost finished. What if you run into a problem?
Step 7 – Get Help If You Need it
On the left-hand side of the screen, at any time, you can access support by requesting a call from an agent, calling State Farm directly, or reading through FAQs. Remember that you can save your progress at any time and return to it when you're ready. It takes time to find quality coverage, and it pays to do your research.
Compare over 200 auto insurance companies at once!
Secured with SHA-256 Encryption
Design of Website/App
While other insurance company websites and apps may be difficult to navigate, State Farm's is relatively simple and easy to use. On the website, it is easy to find whatever information you're searching for. Just click from any of the categories on the drop-down menu and go.
State Farm also has a mobile app. It is designed to help manage your accounts, file a claim, and more.
The app can be found in the Apple App Store, Google Play, or by texting MOBILE to 78836 to get a link.
What do customers think?
In looking at customer ratings for the app, we quickly discovered they were overwhelmingly positive — averaging 4.8 out of 5 stars in Apple's App Store, and 4 out of 5 stars in Google Play. Many customers praised its options, ease of use, and convenience.
However, that doesn't mean the app isn't without criticism. In reviewing comments, we found some complaints about incompatibility with software updates, the inability to set reminders for bills, and some difficulty navigating multiple policies.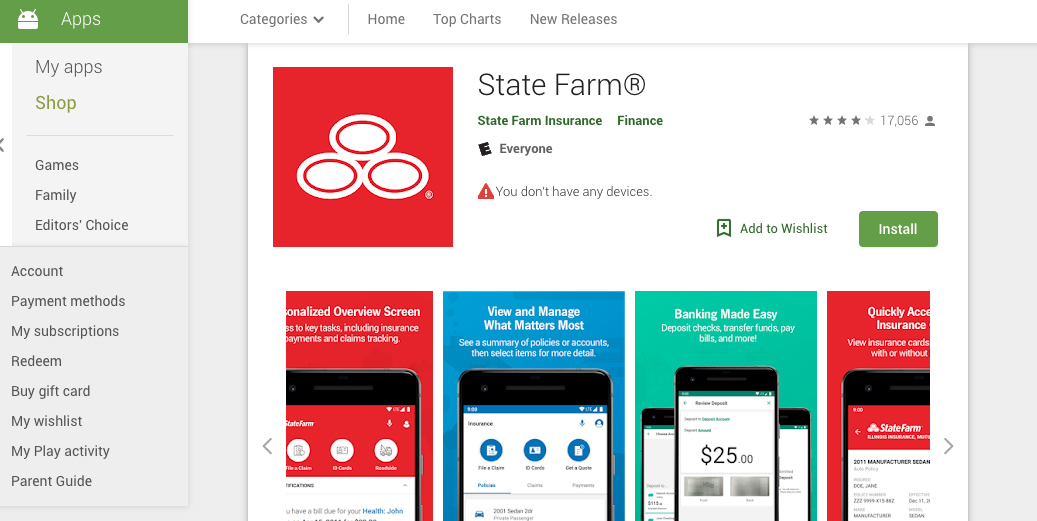 How easy can you find answers?
You can also manage your account.
As with most technology, ease of use will depend on the user and their technical prowess. We encourage you to explore State Farm's website and mobile app to see which works best for you.
Pros and Cons
Now that we have covered everything you need to know about State Farm, let's check out the biggest takeaways in terms of pros and cons.
State Farm is available in every state, so if you're relocating, chances are you can remain with the company. One thing to remember, however, is your rates can change based on your new location.
The Bottom Line
We've shown you everything you need to know about State Farm, so you can decide for yourself whether they are the best insurance company for your needs. But here's what we'd like to know: did we miss anything? Have we provided enough information to help you formulate your choice?
One thing to consider is that everyone's needs are different, and rates can vary significantly based on individual factors.
As thorough as this guide is, we still strongly suggest that you shop around with your personal details and specific vehicle information before you choose an auto insurance provider.
Get quotes today to find out how much you could save on car insurance. Get started by simply entering your ZIP code in our FREE comparison tool.
Compare over 200 auto insurance companies at once!
Secured with SHA-256 Encryption
State Farm Car Insurance FAQs
Now that we've worked our way through this comprehensive guide, you may still have some questions. Check out the common questions in the section below.
Can I get copies of my State Farm ID card online?
Yes, you can view, print, and email a new insurance card, or request a mailed I.D. card through the State Farm website. You can also pull up your I.D. through the mobile app.
Can I make payments to State Farm online?
Yes, you can make payments through the State Farm website, and you can even pay using a phone number, policy number, payment plan account number, or key code.
Does State Farm coverage include windshield repair?
You'll need to check your policy to verify whether you're covered for repairs. That being said, State Farm covers both windshield repairs and replacements, depending on the extent of the damage. Your deductible may apply. Click to learn more about this feature.
How much liability car insurance should I get with State Farm?
The minimum amount of liability coverage you're legally required to have varies by state. You may also decide to purchase liability coverage beyond your state's minimum requirements. The State Farm agent who handles your policy will be able to advise you on your state's minimum requirements.
Does State Farm offer accident forgiveness?
Yes, but there are stipulations. Accident forgiveness at State Farm only applies to customers who have been accident-free at State Farm for nine years.
Will Drive Safe & Save penalize me for bad driving?
Since the app records driving habits, some people worry that bad driving will hike up their rates. While bad driving may result in you not getting a discount one month, the app only subtracts from your costs, and it doesn't add on.
Do I have to register at statefarm.com to use the app?
You can use the State Farm app without registering on statefarm.com. Features available without registering include:
Get a Quote
Find an Agent
Roadside Assistance
ATM Locator
I am a current auto insurance customer. Why can't I get a quote for another auto policy online?
Slug State Farm auto policyholders may do the following to get a quote:
Log into your account.
Choose your current auto policy.
Click Quote/Replace a Vehicle.
The request will be forwarded to your agent for processing.
References:
https://www.investopedia.com/terms-and-conditions/m/marketshare.asp
https://www.statefarm.com/agent/
https://www.statefarm.com/customer-care/download-mobile-apps/state-farm-mobile-app
https://neighborhoodofgood.statefarm.com/stories/100actsofgood.shtml
https://www.statefarm.com/simple-insights/saving/these-7-factors-determine-car-insurance-premiums
https://www.statefarm.com/insurance/auto/discounts/steer-clear
https://www.statefarm.com/finances/banking/money-market-account
https://www.statefarm.com/customer-care/manage-your-accounts/cancel-my-policy#mail
https://www.statefarm.com/customer-care/download-mobile-apps/state-farm-mobile-app?utm_campaign=December_2017_campaign&utm_medium=non_banner_new_sf_app_link&utm_source=statefarm.com
https://www.statefarm.com/customer-care/privacy-security/privacy
https://www.statefarm.com/customer-care/insurance-bill-pay
https://www.statefarm.com/claims/claims-help/auto/windshield-repair