A Guide to Texting and Driving in the U.S.
Free Auto Insurance Comparison
Secured with SHA-256 Encryption
UPDATED: Oct 12, 2021
It's all about you. We want to help you make the right coverage choices.
Advertiser Disclosure: We strive to help you make confident auto insurance decisions. Comparison shopping should be easy. We are not affiliated with any one auto insurance provider and cannot guarantee quotes from any single provider.
Our insurance industry partnerships don't influence our content. Our opinions are our own. To compare quotes from many different companies please enter your ZIP code on this page to use the free quote tool. The more quotes you compare, the more chances to save.
Editorial Guidelines: We are a free online resource for anyone interested in learning more about auto insurance. Our goal is to be an objective, third-party resource for everything auto insurance related. We update our site regularly, and all content is reviewed by auto insurance experts.
What You Should Know
Annually, approximately 3,000 motor-related fatalities are the result of distracted driving, and roughly 10% of those can be directly attributed to texting while driving

Drivers who text and drive are 23 times more likely to become involved in a car accident

Texting while driving citations raised auto insurance premiums by an average of $315
As you cruise along the roadways and highways singing, along with the radio or thinking about your daily to-do list, it's all too easy to forget that you're controlling a two-ton metal object. Crashing into a static object while driving at a speed of 70 miles per hour would have an average impact of 39,942 pounds of force.
Each time you drive a car, there's an inherent safety risk to yourself and others on the road. Even when you're paying attention and driving safely.
But what about when you're not?
The risk of a crash increases exponentially when drivers are distracted. And today, the most common reason for distracted driving is texting.
What is distracted driving?
Distracted driving refers to any activity that may prevent the driver from keeping their attention to the road. It may include one or any combination of the following actions:
Texting

Facetiming

Talking on the phone

Drinking

Talking with the other passengers

Eating

Fiddling with the navigation or entertainment system
According to the IHHS, in 2019 there were: "33,244 fatal motor vehicle crashes in the United States in 2019, in which 36,096 deaths occurred. This resulted in 11.0 deaths per 100,000 people, and 1.11 deaths per 100 million miles traveled."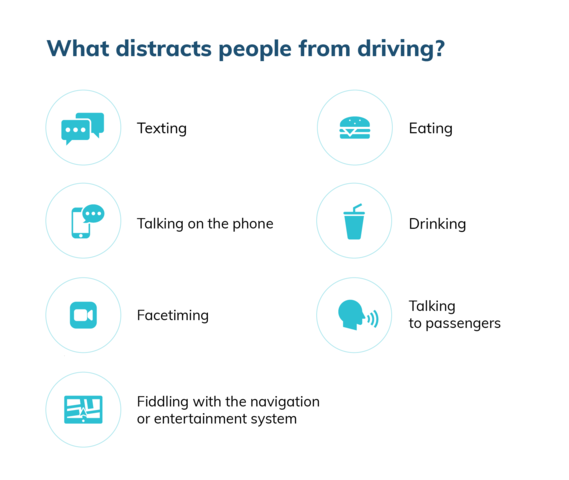 Of those total fatalities, 3,142 people were killed in motor vehicle crashes related to distracted drivers.
Typically, there are three primary ways a driver gets distracted:
Visually

— The driver takes their eyes off the road

Manually

— The driver takes their hands off the steering wheel

Cognitive

— The driver's mind is focused on something besides driving
On their own, each one of these distractions can cause a car crash. This is why texting is arguably the most dangerous type of distracted driving. It forms a trifecta of distraction since the driver's eyes are on their phone, at least one hand is typing out the message, and the driver's focus is on the text, rather than where they're driving.
A text may take five seconds to type out. That's five seconds where you're not paying attention to the road. And, at 60 miles per hour, that's tantamount to driving an entire football field blindfolded.
Should anything happen on the roadway ahead, you would not have enough time to react, let alone safely come to a stop.
Compare over 200 auto insurance companies at once!
Secured with SHA-256 Encryption
Smartphones and Driving — A Look at the Texting and Driving Statistics
Although smartphones have, in many ways, had positive impacts on our lives, driving is not one of those. Far too many traffic incidents are the direct result of distracted driving, primarily linked to phone use.
Per the Children's Hospital of Philadelphia Research Institute:
"Typing text messages reduces a driver's ability to adequately direct attention to the roadway, to respond to important traffic events, and to control a vehicle within a lane and with respect to other vehicles…Cell phone use behind the wheel reduces the amount of brain activity associated with driving by 37%."
According to the NHTSA, nine people are killed, and more than 1,000 people are injured daily in distraction-related crashes. And this doesn't just impact the driver. It affects all road users, including passengers, other drivers, pedestrians, motorcyclists, and bicyclists. In fact, per the CDC, 1 in 5 people who died in crashes involving a distracted driver in 2018 was not even in a vehicle.
It's important to remember that when it comes to smartphones and distracted driving, the problem goes beyond texting. There are dozens of applications — from Waze to Instagram to Spotify — that can potentially capture a driver's focus.
Because of this, anything that encourages the driver to take their eyes off the road for even a second should be cause for concern.
Who is most at-risk?
Drivers of all ages engage in this risky driving behavior. According to an NHTSA survey, 31% of respondents had read or sent a text message while driving at least once in the previous month, with more than 75% saying that they've witnessed others engage in similar behavior.
In 2018, 354 fatal crash accidents were directly attributable to cell phone usage. According to a different NHTSA study, texting and driving or distracted driving accident demographics looked as follows:
Age Group
Total Drivers
Distracted Drivers
Drivers Using Cell Phones
#
% of Total Drivers
#
% of Total Drivers in Age Group
% of All Distracted Drivers
#
% of All Distracted Drivers
% of Drivers Using Cell Phones
15-19
3,070
6%
237
8%
9%
40
17%
11%
20-29
11,629
23%
680
6%
25%
120
18%
24%
30-39
9,264
18%
506
5%
19%
86
17%
24%
40-49
7,809
15%
389
5%
14%
44
11%
12%
50-59
7,883
15%
342
4%
13%
36
11%
10%
60-69
5,635
11%
251
4%
9%
21
8%
6%
70+
4,919
10%
256
5%
10%
6
2%
2%
#blank#
#blank#
#blank#
It may not be surprising that the drivers most likely to engage in and be negatively impacted by texting and driving are drivers in their teens and twenties. As the numbers indicate, drivers under the age of 30 were overrepresented when compared to older generations.
But why is that?
Even without a distraction, younger drivers are already more likely to be involved in a fatal accident. While there are multiple factors for this, experience (or lack thereof) plays the most significant role. This is only exacerbated by the fact that young people — especially males — whose brains are still developing, are more likely to engage in risky behaviors such as speeding and impaired driving.
Because of this, the riskiest period for any driver occurs within the first few months after receiving their license.
What are the laws regarding texting and driving?
Currently, the vast majority of states have a distracted driving law on the books that limits cellphone usage and driving. Per the NHTSA:
15 states ban talking on any handheld device or smartphone device unless it is hands-free

47 states and D.C. ban text messaging for all drivers

In several states, drivers under the age of 18 are banned from using a cell phone for any reason
In most states, if you're caught on your phone while driving, it's treated as a traffic infraction, which typically results in a fine — ranging from tens of dollars to hundreds — for first-time offenders. Naturally, being convicted for multiple offenses can result in stiffer penalties. And if distracted driving results in injury or death of another person, the consequences could be severe.
For instance, according to Maryland law: "The death or serious bodily injury of another person resulting from illegal use of a cell phone while driving [is] a misdemeanor punishable by up to one year in prison, a fine of up to $5,000, or both."
Compare over 200 auto insurance companies at once!
Secured with SHA-256 Encryption
How does distracted driving impact your insurance?
Simply receiving a distracted driving citation will cause your car insurance premium to skyrocket. But if you get in a motor vehicle crash as a result of texting and driving, the situation will inevitably get worse. Plus, the typical car accident settlement amounts to around $19,000.One 2020 survey found that "getting caught texting or otherwise using your phone while driving will raise your car insurance rate by an average of 21.65% ($315) — and in some states more than 45.96%."
Other notable statistics include:
Insurance penalties for distracted driving have grown by nearly 8,000%.

Insurance penalties will impact your premium for at least three years.

The average annual cost of car insurance nationwide was approximately $1,500; the average premium for drivers with a texting and driving citation was $1,900.

Insurers in every single state now penalize distracted drivers for first-time offenses, and if you receive a second ticket, the rate can double.
Put simply, it pays to be cautious and drive safely.
Travel the Roads Safely and Securely
It's always possible to get in an auto accident anytime you drive your car. But the odds of that occurring increase significantly when you're not paying attention, particularly if you're texting and driving.
Aside from the potential fines and insurance hikes, the biggest reason why you should never text and drive is that it puts you and others in jeopardy. A car accident can occur in the blink of an eye, and if your eyes are on your phone, you may not even realize something's wrong until it's too late.
It's just not worth the risk. The text message can always wait.
So, what can you do to help fix this problem?
Model good driving behavior and encourage others to follow your example. That's a recipe for safer roads and lower insurance premiums.