10 U.S. Cities with the Shortest Commutes
The U.S. city home to the shortest commutes is Lubbock, TX, with an average trip to work taking only 16 minutes. Other areas in our study of the cities with the shortest commutes include small to midsize cities and those located in the Midwest. On the flip side, New York City has the longest commutes with an average that exceeds 41 minutes. A short commute can drastically reduce your auto insurance rates. Use our free comparison tool to make sure you are getting the best rates for your mileage.
Free Auto Insurance Comparison
Secured with SHA-256 Encryption
UPDATED: May 9, 2022
It's all about you. We want to help you make the right coverage choices.
Advertiser Disclosure: We strive to help you make confident auto insurance decisions. Comparison shopping should be easy. We are not affiliated with any one auto insurance provider and cannot guarantee quotes from any single provider.
Our insurance industry partnerships don't influence our content. Our opinions are our own. To compare quotes from many different companies please enter your ZIP code on this page to use the free quote tool. The more quotes you compare, the more chances to save.
Editorial Guidelines: We are a free online resource for anyone interested in learning more about auto insurance. Our goal is to be an objective, third-party resource for everything auto insurance related. We update our site regularly, and all content is reviewed by auto insurance experts.
Nobody likes to spend more time in traffic than necessary. That's why these cities with short commutes might be a good place to call home.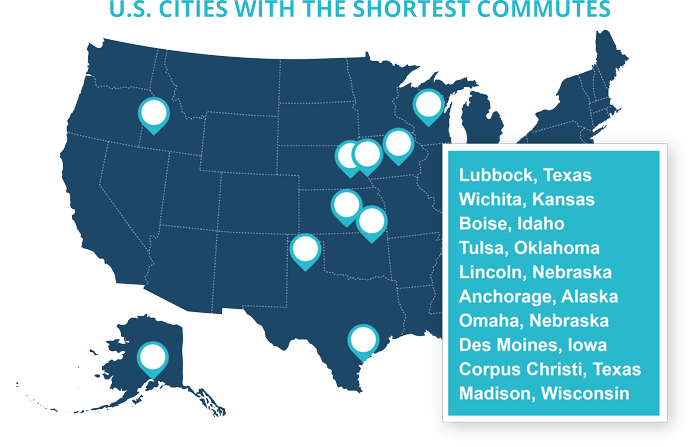 ---
What You Should Know:
Five of the 10 U.S. cities with the shortest commutes can be found in the Midwest
Small to mid-sized cities tend to have shorter commute times overall
Public transportation or alternative commuting can help alleviate your commute time
---
The average American worker has a one-way commute time of 25.7 minutes. That's over 51 minutes in the car — nearly an hour — going back and forth to work each day. In a typical five-day workweek, that's nearly five hours.
In a year, that means most Americans spend around 200 hours driving to work and back.
When it's all said and done, commuting is a necessary part of most people's work lives. These long hours are what inspired us to create this guide revealing the top 10 U.S. cities with the shortest commute times. Because we understand this is time we'd all rather be spending with our loved ones, watching our favorite television shows, exercising, or curling up with a good book.
We'll also briefly consider the American cities with the longest commutes, cities with the best alternative commute options than driving to work yourself, and what cities are doing to alleviate commute times across the board. So read on to find out more about commuting in the United States. We've done the research and we're ready to share what we've found.
If you understand auto insurance, you know that your daily commute – whether short or long – can impact your monthly rates. Fortunately, for either group, there are many ways to save money on auto insurance. One of the quickest and easiest is to compare live auto insurance quotes from different providers.
Enter your ZIP code into our free online quote comparison tool to do just that and start saving today.
What U.S. cities have the shortest commute times?
You probably know that when we talk about commute times, we mean the amount of time someone spends driving back and forth to work. But commute is an interesting word; it can be both a verb — "He commutes to work every day by car." — or a noun — "She has a long commute to her job in New Orleans."
As Merriam-Webster contends, a commute is, in essence, an exchange:
"When you commute between a suburb and a city, you're 'exchanging' one location for another. When a chief executive substitutes a life sentence for the death sentence handed down by a court, he or she is commuting the original sentence. Most such commutations are the result of the prisoner's good behavior."
But in almost every instance of the word, a short commute time is a better commute time. It's also, our research has consistently found, a cheaper commute. Simply put: long commutes increase your auto insurance rates. However, shorter commutes mean less money spent on car insurance, gas, automobile maintenance, tolls, and other incidentals involved with driving, not to mention your time.
So what cities in the United States have the shortest average commute times? In the table below, we've relied on research conducted by IndexMundi, one of the top city-data firms to publish demographic information anywhere. They've calculated the average one-way commute times of the top 100 most populated cities across the country.
Here, we've pulled their information on the top 10 shortest commute times of U.S. cities, listing average commute times one-way and in minutes.
U.S. Cities with Shortest Commutes
| CITY | AVG. COMMUTE | POPULATION | RANK |
| --- | --- | --- | --- |
| Lubbock, TX | 16.4 | 253,888 | 1 |
| Wichita, KS | 18.4 | 390,591 | 2 |
| Boise, ID | 18.5 | 226,570 | 3 |
| Tulsa, OK | 18.6 | 401,800 | 4 |
| Lincoln, NE | 18.7 | 284,736 | 5 |
| Anchorage, AK | 18.7 | 294,356 | 6 |
| Omaha, NE | 18.8 | 466,893 | 7 |
| Des Moines, IA | 19.0 | 217,521 | 8 |
| Corpus Christi, TX | 19.2 | 325,733 | 9 |
| Madison, WI | 19.4 | 255,214 | 10 |
| | #blank# | #blank# | #blank# |
While these cities are quite different, they have one important thing in common: commute times well below the national average one-way commute of 25.7 minutes. But which U.S. city claims the top spot?
The city with the shortest commute is Lubbock, TX at 16.4 minutes. Lubbock's average time is a full two-minutes shorter than our number two city, Witchita, KS, at 18.4 minutes.
The next few cities on the list – Boise, Tulsa, Lincoln, Anchorage, and Omaha – are nearly neck-and-neck in their commute times, each averaging under 19 minutes.
Some other notable similarities: several of the shortest commutes in the United States can be found in a variety of midsized cities. Four of these cities are state capitals, including Lincoln, Nebraska; Boise, Idaho; Des Moines, Iowa; and Madison, Wisconsin.
Several of them are also major university towns, such as Lubbock, Texas, and Madison, Wisconsin. And a few of them are among the fastest-growing metros in the United States, such as Omaha, Nebraska, and Tulsa, Oklahoma.
Now that we've talked about the shortest commutes in the United States, let's take a look at the other end of the commute spectrum: Our country's longest commutes by city.
Compare over 200 auto insurance companies at once!
Secured with SHA-256 Encryption
What U.S. cities have the longest commute times?
Sure, a longer commute might mean you get to listen to more of your audiobook or podcast, but it also has a lot of negative effects.
In a 2017 study, researchers at the University of the West of England found that "every extra minute of commute time reduces job satisfaction, leisure time satisfaction, and mental health."
Public health research group Mercer found that folks with long commutes are more likely to suffer from depression and financial concerns, to have higher levels of stress and anxiety, and even to face higher frequencies of obesity.
Our research has consistently shown that striving to shorten your commute and drive less can improve your overall health, help protect the environment, and reduce your car insurance premiums. Plus, you can save money on your auto insurance by going green with a hybrid car or carpooling.
On the level of emotional health, we know that less stressful drivers are better drivers and that better drivers often qualify for a good driver discount.
So let's take a look at the cities where you'll have to work even harder to fight the negative effects of long commute times.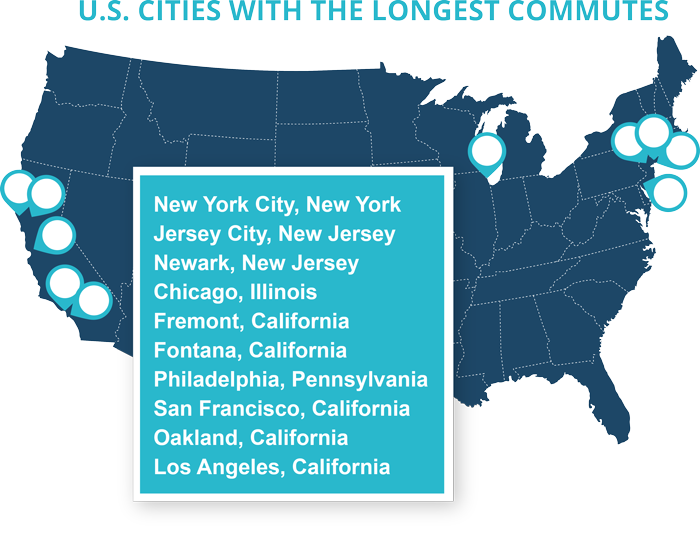 In the table below, we've again relied on the research conducted by IndexMundi. They've calculated the average one-way commute time of the top 100 most populated cities across the country. Here, we've pulled their information on the top 10 longest commute times for U.S. cities, listing average commute times one-way and in minutes.
U.S. Cities with the Longest Commutes
| CITY | AVG. COMMUTE | POPULATION | RANK |
| --- | --- | --- | --- |
| New York City, NY | 41.2 | 8.623 million | 1 |
| Jersey City, NJ | 37.1 | 270,753 | 2 |
| Newark, NJ | 35.3 | 285,154 | 3 |
| Chicago, IL | 35.0 | 2.716 million | 4 |
| Fremont, CA | 35.0 | 234,962 | 5 |
| Fontana, CA | 33.7 | 211,815 | 6 |
| Philadelphia, PA | 33.4 | 1.581 million | 7 |
| San Francisco, CA | 33.3 | 884,363 | 8 |
| Oakland, CA | 32.7 | 425,195 | 9 |
| Los Angeles, CA | 31.4 | 4 million | 10 |
| | #blank# | #blank# | #blank# |
Some of the larger metro areas on this list should come as no surprise. So, which city has the longest commute time?
New York City has the longest commute at 41.2 minutes. Other large cities rounding out the top ten include Chicago (#4 at 35 minutes), San Francisco (#8 at 33.3 minutes), and Los Angeles (#10 at 31.4 minutes).
Something else to note? four California cities make this list, making an argument that the state of California has some of the longest commute times in the country.
But several of these cities are midsized – like Jersey City and Newark, NJ – and midsized cities typically have shorter commute times. So why don't these?Most of the midsized cities on this list are considered bedroom communities or commuter cities of larger metro areas. So folks generally commute from these midsized cities into work at some distance and accompanied by traffic congestion.
An example of a commuter city to a larger metro area is Fremont, California, which is located between San Francisco, San Jose, and the tech and education hub of Palo Alto.
Some folks are even designated super commuters. Super commuters "travel 90 minutes or more to work each day, each way," according to Yahoo! Finance, and their numbers are on the rise. Between 2005 and 2017, the number of super commuters across the United States increased by 32 percent.
Take a ride with one such super commuter — who spends up to six hours driving back and forth to work each day — in the video below.
Cities such as San Francisco, featured in the video above, and New York City are especially susceptible to super commutes, as are regions where coal mining and other heavy industries such as the tri-state region of Ohio, Kentucky, and West Virginia are growing rapidly. And when your commute crosses state lines, you begin to get into a gray area of whether you can register your car in a different state than you live.
But not everyone commutes by car to work, as we'll explore in the next section.
What U.S. cities have the best mass transit?
You probably already know that taking advantage of public transportation is one of the easiest ways to alleviate your commute times and stress. And we mean stress in the most literal definition possible. Bloomberg's CityLab reports that single drivers face far more personal stress and anxiety than people who take public transportation, bike, or walk to work.
Thus, it's good to know where the best public transportation networks in the United States are located. Many of these cities are also the metros with the longest commutes for single drivers.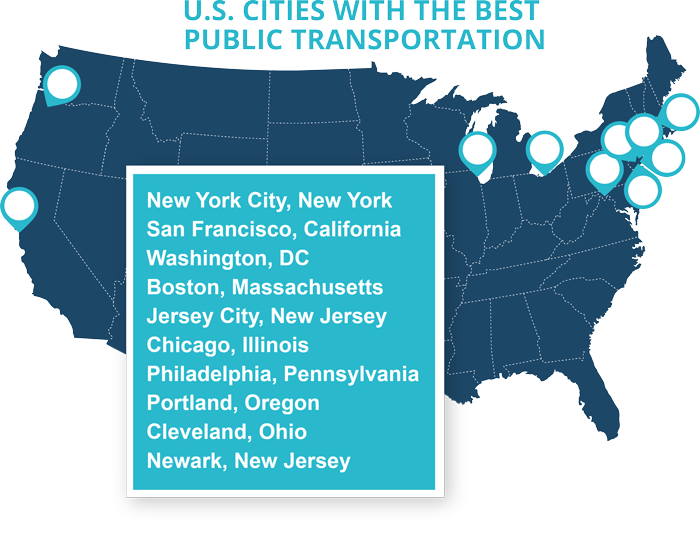 Not surprisingly, the cities with the best public transit tend to be metropolitan areas along the coasts. In fact, the majority of them are found in the congested and heavily-populated Northeastern corridor. The largest source of transit data and public transit tracking in the nation, AllTransit, gave the 10 U.S. cities in the following table top marks for their public transportation options.
Best Public Transit Cities in U.S.
| CITY | SCORE | ROUTES | POPULATION | RANK |
| --- | --- | --- | --- | --- |
| New York City, NY | 9.6 | 20 | 8,560,072 | 1 |
| San Francisco, CA | 9.6 | 26 | 864,263 | 2 |
| Washington, DC | 9.3 | 25 | 672,391 | 3 |
| Boston, MA | 9.3 | 16 | 669,091 | 4 |
| Jersey City, NJ | 9.3 | 11 | 265,932 | 5 |
| Chicago, IL | 9.1 | 11 | 2,723,672 | 6 |
| Philadelphia, PA | 9.0 | 12 | 1,569,657 | 7 |
| Portland, OR | 8.9 | 10 | 627,964 | 8 |
| Cleveland, OH | 8.8 | 6 | 388,631 | 9 |
| Newark, NJ | 8.7 | 14 | 282,803 | 10 |
| | #blank# | #blank# | #blank# | #blank# |
Here's what you need to know: AllTransit's Performance Score between zero and 10 is a weighted sum of what they consider to be the overall effectiveness of transit connectivity, which means access to both land and jobs and the frequency and reliability of service.
Despite having the longest commute time in the U.S., New York City claims the top spot as having the best public transportation in the country, with a Performance Score of 9.6.
Coming right behind New York City with the same Performance Score is San Francisco, CA. Washington, D.C., Boston, MA and Jersey City, NJ round out the top five with scores of 9.3.
Many of the cities listed with the best public transportation systems, such as New York City and Washington, D.C., didn't surprise us. These are cities known for their subways and buses, after all. But other cities with much smaller populations, such as Jersey City, New Jersey; Cleveland, Ohio; and Portland, Oregon, also received top marks for their public transit.
Something else to keep in mind: taking public transportation also ensures that systems remain as up-to-date as possible because regular use shows lawmakers that funds must be allocated to these essential transit systems.
What are U.S. cities doing to shorten commute times?
There are certainly things we can all do to reduce our commute times, and some of that happens at the city or local government level. We found that cities across the nation are doing three primary things to alleviate commute times:
Encouraging carpooling
Rewarding density
Incentivizing relocation
Let's take a look at what each of these three areas actually means.
#1 – Carpooling to Save Time and Money
As cities, especially in the South and West, continue to sprawl rapidly, municipalities are beginning to encourage carpooling more and more. An added benefit: We've found that carpooling can save you money. So how do cities encourage carpooling?
One primary way: high-occupancy vehicle lanes. According to the U.S. Department of Transportation:
"High-occupancy vehicle (HOV) lanes are one or more lanes of a roadway that have restrictions on use to encourage ridesharing and can reduce vehicle miles traveled (VMT)."
HOV lanes generally require a certain number of passengers — such as two or more, three or more, etc. — during either peak times, or rush hour, or all the time. In places like Washington, D.C., and Dallas, Texas, HOV lanes have been especially effective in getting more people to carpool, which also clears up the rest of a roadway and makes roads safer for all users.
This safety value is especially important. Fewer cars on the road mean fewer car accidents, and fewer car accidents limits how many insurance claims you make in a year, which is good for every driver.
Check out the video below from the Michigan Department of Transportation to learn more about HOV lanes.
As you can see from this video, HOV lanes provide a safe, economical, and reliable way to travel. They also help save the environment by pouring fewer carbon gases into the air given that each car holds more than one passenger. That's an excellent community service you can do just by sharing your commute.
#2 – Dense Cities Have Shorter Commute Times
Bottom line: When people live closer to where they work, they have a shorter commute. That's why we have major cities with two, three, or four times the average population may in some cases have residents with shorter commute times. Bloomberg's CityLab reports that:
"The role of density is straightforward. When homes and jobs are clustered together, commuters don't need to travel as far to reach either one… density helps cities with twice the population fit into just 70 percent as much area, on average. In these cities, densification reduces the growth of commute lengths to 30 percent from the expected 41 percent."
There are benefits additional to reduced commutes when it comes to density. In denser cities and neighborhoods, people walk more, leading to better overall health, and spend more money in local businesses, improving the local economy.
#3 – Relocating to Reduce Commute Times
Carpooling and greater density are not always viable options for improving commutes, and that's where encouragement of relocation comes in.
As commuters and their employers enjoy a symbiotic relationship, they have a mutual benefit from being physically closer to one another. When commute times become unbearable due to sprawl or cost, commuters may decide to move closer to work or conversely, employers may choose to relocate closer to their employment pool.
And remember, where you live is one of the major factors that can affect your car insurance costs. So if you do decide to take the plunge and move, be sure to look into whether you might pay higher, or lower, rates.
Compare over 200 auto insurance companies at once!
Secured with SHA-256 Encryption
What do the experts say about commute times?
We asked a variety of experts — such as urban planners and travel guides, commute researchers and human resource officers — about commuting in the United States. Read on to find out what a few of them had to say, some of which certainly surprised us.
Avi Wilensky offered some great advice on avoiding a horrible commute by taking a vehicle, mass transit, electric scooter, or rental bike:
"By vehicle: Critical to avoid a horrible driving commute is to identify the optimal times to travel. Hidden within the Waze app is an invaluable feature called "Planned Drives". There you will find predicted traffic estimates based on day and time, based on historical traffic data.
Another valuable Waze product to improve your commute is Waze Carpool. It rolled out to the entire US in 2019 and is much less expensive than the better known ride-sharing services such as UberPool or Lyft Shared. Drivers are only able to charge to cover the cost of gas, tolls, etc. and are not permitted to make a profit (a max of 58 cents per mile, as imposed by the IRS).
In addition to the savings, it's a fun way to meet new locals while helping keep the planet green. If you are relying on ride-hailing or ridesharing, the data that we gathered at Up Hail shows that requests for Uber and Lyft ramp up on Thursdays and start to wind down on Sunday mornings.
The busiest times are generally between 11 a.m. and 9 p.m. If you have the flexibility to travel before or after peak hours, you may save quite a bit of time and enjoy a lower fare.
By mass transit: If your commute is by train or bus, an app called Pigeon (part of Google's Area 120 experimental products lab) will alert you of any delays which are crowdsourced in real-time by riders.
It's currently only available in the largest metropolitan areas in the U.S. (New York/New Jersey, Los Angeles, San Francisco, Chicago, Boston, Washington D.C., and Baltimore) and for iOS only. More cities and an Android version are expected to roll out soon.
By electric scooter and bike rentals: These modes of transportation are naturally immune from traffic congestion and are typically the lowest cost options for short-distance travel. These options are typically only available in larger cities, and we maintain a comprehensive database of coverage areas and pricing at Up Hail."
Avi Wilensky is the founder of Up Hail, a travel app.
People use Up Hail to save money on rideshare, taxis, scooters, & more.
---
"Americans' daily commutes have been increasing for nearly three decades. The data shows that since 1990, the average American has added a full eight minutes to their daily round-trip commute. 
For an average person working 50 weeks out of the year, it is equal to almost an extra day and a half spent getting to and from work.
Below are some of the shortest commuting routes in America:
Boise, Idaho: in Boise, the average round-trip commuting time is 36.8 minutes. According to Boise State Public Radio, there's more to the city than just the short commute, such as its temperate climate, affordable lifestyle and ready access to the outdoors.
Lubbock, Texas: Lubbock has the shortest commute in the nation, which is 32.8 minutes. It has an excellent public school system and a strong business environment.
Sioux Falls, South Dakota: with a population density of just 2,100 people per square mile, Sioux Falls is spread across 73.5 miles. The average round-trip commute duration is 33.8 minutes.
Wichita, Kansas: Wichita is located on the Arkansas River, where it was established as a cattle trading post in the 1860s. Today, the city is best known as an aircraft manufacturing hub. Geographically, Wichita is fairly spread out and not densely populated, which together make for quick morning and evening commutes that are 36.4 minutes (round-trip).
Lincoln, Nebraska: Even though Lincoln covers 94.3 square miles, it is no trouble reaching the other end of the city due to the low population density of just 2,900 people per square mile. Its average round-trip commuting duration is 36.6 minutes.
Other places include Springfield, Missouri; Amarillo, Texas; and Eugene, Oregon."
Jennifer Willie is an editor at the travel info center, ETIA.com.
ETIA educates travelers with the latest news and travel requirements.
---
"While the population of the Twin Cities (Minneapolis-St. Paul, Minnesota) is on the rise, one of the advantages to living in this area is the relatively low commute times.
As someone who travels often as well as constantly thinks about moving, one of the many positives to living in the Twin Cities is how easy it is to get around. Sure, we have traffic — like any other major city — during morning and evening hours, but overall, it is nothing compared to cities like L.A., N.Y.C., Chicago, or Dallas.
There are a lot of ways to avoid traffic issues. The Twin Cities is one of the most bikeable cities in the country. Hard-core bikers use fat tires bikes even in the colder months.
The Minneapolis Light Rail is a great way to get around and is quite inexpensive. Efforts are constantly underway to encourage people to carpool or use public transportation as well.
Of course, it is always to your benefit if you are traveling away from the city during morning rush hour and back in at the end of the workday.
Minneapolis is also one of the most active cities in the country so it is common to see people getting around by foot closer to the city during the warmer months.
Twin Cities locals can easily be found socializing with friends while "walking a lake," grabbing their groceries on foot or bike, biking to work and of course, popping into the growing list of breweries, distilleries, and restaurants."
Mollie Krengel is the founder of the travel site, Wild Bum.
Wild Bum is full of travel guides centered around living with meaning.
---
Cities with the Shortest Commute Times: A Summary
Residents of the United States have an average one-way commute of 25.7 minutes, meaning they spend nearly five hours a week driving back and forth to work alone. Cities with especially long commutes include many in the congested Northeast corridor, especially New York City, New York; Jersey City, New Jersey; and Newark, New Jersey.
But long commutes aren't the case in every city.
If you live in Lubbock, Texas; Wichita, Kansas; or Boise, Idaho, you're likely to have one of the shortest average commutes of any employee in the United States.
As you can see in the video below, driving through downtown Boise, the densest part of the city, is a relative breeze.
Folks are also taking steps to alleviate their commute, either by carpooling or relocating to a denser area or an area closer to their workplace. Additionally, cities with great public transit systems — such as New York City, San Francisco, or Washington, D.C. — are great places to live and work if you want to avoid driving alone on your commute.
Finally, you can keep this in mind: shorter commutes often mean less stress, higher job satisfaction, and better overall health.
Methodology
For this comprehensive look into the 10 U.S. cities with the shortest and longest commutes, we focused on the data provided by IndexMundi, one of the top city-data firms to publish demographic information anywhere. IndexMundi studied the mean travel time in minutes for U.S. workers above the age of 16 between 2014 and 2018.
Our researchers tabulated IndexMundi's reports alongside our own into the livability of these cities and several other factors, from walkability to cost of living.
We had additional questions about commutes and their effects, so we also tabulated a variety of information from reputable industry and educational experts, such as Bloomberg's CityLab initiative and the University of the West of England.
These sources helped us understand both the personal and cultural effects of commuting, as well as what is being and can be done to alleviate stressors for those who commute to work.
Remember, shorter commutes can lessen your insurance rates. But that is just one method. Finding discounts, raising deductibles, and using telematics systems can all reduce your auto insurance rates.
The quickest and easiest way is to weigh insurance quotes from different companies. Compare auto insurance quotes today using our free online quote tool to get the best rates in your area based on your insurance needs.