QuoteWizard Auto Insurance Review [2021]
QuoteWizard auto insurance quotes are available from 30 auto insurance companies with a single quote request form. The QuoteWizard BBB rating is an A+ and the company has been in business since 2006. Comparing quotes on the QuoteWizard website is fast, after which you'll l be directed to the website of the company you choose to finalize your auto insurance quote and buy a policy.
Free Auto Insurance Comparison
Secured with SHA-256 Encryption
UPDATED: Mar 27, 2021
It's all about you. We want to help you make the right coverage choices.
Advertiser Disclosure: We strive to help you make confident auto insurance decisions. Comparison shopping should be easy. We are not affiliated with any one auto insurance provider and cannot guarantee quotes from any single provider.
Our insurance industry partnerships don't influence our content. Our opinions are our own. To compare quotes from many different companies please enter your ZIP code on this page to use the free quote tool. The more quotes you compare, the more chances to save.
Editorial Guidelines: We are a free online resource for anyone interested in learning more about auto insurance. Our goal is to be an objective, third-party resource for everything auto insurance related. We update our site regularly, and all content is reviewed by auto insurance experts.
QuoteWizard Overview
Key Info
Details
Founders
Scott Peyree
Founded
2006
Headquarters
157 Yesler Way, Ste 400
Seattle, WA 98104
Phone
1-855-478-1741
Employees
150+
Revenue
$75 million
#blank#
QuoteWizard has been around for a while and is one of the leading companies in quote comparison. Millions of people use QuoteWizard to compare prices and find the best deal, and there are plenty of positive QuoteWizard auto insurance reviews.
How do you know which comparison site is best for car insurance? Finding auto insurance quotes online can be confusing with all of the options. Is the QuoteWizard auto insurance comparison tool right for you?.
Our comprehensive QuoteWizard auto insurance review goes over everything from QuoteWizard's history and ratings to the pros and cons of using the tool. We also provide a step-by-step guide to getting QuoteWizard auto insurance rates, so that you know what information you'll need.
Ready to compare auto insurance rates before you learn more about QuoteWizard auto insurance quotes? Enter your ZIP code in our free online tool above.

What is QuoteWizard's and what does it do?
QuoteWizard was founded in Seattle in 2006. The company has boomed since its foundation, attracting the attention of LendingTree, which bought the company in 2018. Today, QuoteWizard offers quote comparisons for auto, homeowners, renters, health, and life insurance.
Customers are sometimes confused because they believe QuoteWizard sells insurance. However, QuoteWizard is not a licensed insurance agent. While you don't need to use a car insurance agent to buy insurance, QuoteWizard is not licensed to sell. You don't buy a policy from QuoteWizard directly, but the company makes the process easier.
After reviewing free quotes and deciding on an insurance company, you will purchase the policy directly from that company. Usually, you can go straight from the tool to the insurer to purchase a policy. This makes the process of buying auto coverage easier, as you can see multiple quotes at one time and pick the best price. You'll be able to answer questions like, "Is Erie Insurance better than State Farm?" with rates specific to you.
What are QuoteWizard's ratings?
Because quote comparison sites often require quite a bit of personal information, you must trust the company you pick. What is one of the best ways to determine how reliable it is? Check customer reviews and ratings. Unhappy customers are more likely to post a review than happy ones, so it's always worth noting that it's not unusual for bad reviews to outnumber good ones.
To give you an idea of what actual customers think of the company, we've collected ratings from several review sites. Let's take a look.
QuoteWizard Consumer Ratings
| Companies | Rating | Total Reviews |
| --- | --- | --- |
| ConsumersAdvocate | 4.6 out of 5 | NA |
| Clearsurance | 3.86 out of 5 | 636 |
| Glassdoor | 4.0 out of 5 | 55 |
| BBB | A+ | 28 |
| | #blank# | #blank# |
QuoteWizard has an excellent Better Business Bureau (BBB) rating of A. Although there aren't many other ratings of QuoteWizard out there, the reviews we found were mostly positive.
We included Glassdoor's rating of QuoteWizard, as employee reviews of a company provide insight into how a company operates. Out of the 55 employee reviews currently on Glassdoor, 72 percent would recommend QuoteWizard to a friend and 85 percent approve of the CEO. Overall, employees have a positive impression of the company.
How does QuoteWizard provide quotes?
QuoteWizard is not affiliated with any specific companies but works through affiliated marketing. An affiliated marketing business is when a company partners with third-party companies to promote its products. If a customer buys a product based on a recommendation from the affiliated marketing business, that business will receive a commission.
Most rate comparison sites are a form of affiliated marketing businesses, as partnerships with companies allow the rate comparison sites access to rate data.
Because QuoteWizard is not affiliated with an insurance company, there is no bias to their rates or recommendations.
QuoteWizard compiles quotes from 30 different companies. These companies are among the top insurers in the U.S., such as Allstate, Farmers, State Farm, Geico, USAA, and more. While other rate comparison sites have rates from over a hundred companies, a smaller selection isn't necessarily a bad thing.
Quote-comparison sites will often give you only the top 10 best options for you, based on the information you provided. Usually, these options end up being the top companies anyways, not one of the lesser-known insurers local to your area. Having more selection doesn't mean better selection.
Compare over 200 auto insurance companies at once!
Secured with SHA-256 Encryption
How can I get a quote with QuoteWizard?
Giving you a step-by-step guide to the auto quote process serves two purposes. It helps you move through the quote process faster, as you'll know what information you'll need.
Below we have outlined the steps to get free quotes from QuoteWizard.
Step 1 – Enter your ZIP code
The first thing you will need to do is visit the website. On the homepage, you will see a quote box asking for your ZIP code. You must enter the right ZIP, as this is used to calculate your area prices, which can change drastically based on crime, crashes, and weather.

Once you enter your ZIP code and click Get Quotes, you will immediately be taken to the auto policy form.
Step 2 – Enter Vehicle Information
The first set of information requested is vehicle information. It will ask for your vehicle year, make, and model. Giving this information allows vehicle discounts to be added based on safety ratings and features.
Once you've entered your vehicle information, you will be asked if you want to add a second vehicle.
The system notes that you can "Save Additional 20%" when you add a second vehicle.
Insuring multiple vehicles can earn you a significant discount at most providers, which is why QuoteWizard emphasizes this.
Bear in mind that if you need insurance for a loan on your vehicle, the finance company won't accept Wizard insurance quotes. You need an actual policy to meet that requirement.
Step 3 – Fill Out Past Insurance Information
Next, you will be asked if you have had an auto policy in the last 30 days.
If you click no, you will be taken to the next question. If you click yes, you will be asked who your insurer was and how long you have continuously had insurance.
Step 4 – Fill Out Demographic Information
The form will then ask you demographic questions, such as your gender, marital status, credit score, and homeowner status. If you aren't sure what your credit score is, it will allow you to select this as an option.
Great credit scores will save you money on auto policies. Auto insurance is cheaper if you're a homeowner, which is why QuoteWizard will give you the option to add your homeowner status to see bundling discounts.
If you select no, you will continue with your auto insurance quote.
Step 5 – Fill Out Driver Information
After you've filled out your driver information, it's time to get started on driver information. You will be asked if you or any other drivers on your policy have ever been in at-fault accidents, gotten tickets, or been convicted of DUIs.
If you answer yes to any of these questions, it will affect the rate quotes. This is because insurance companies charge more for problematic driving records, and isn't to do with QuoteWizard itself.
Step 6 – Fill Out Personal Information
Near the end of the process, QuoteWizard will ask for your full birthdate. Once you've filled out your birth month, day, and year, the system will ask for your full name and email address.

The last bit of personal information you'll have to enter is your address and phone number.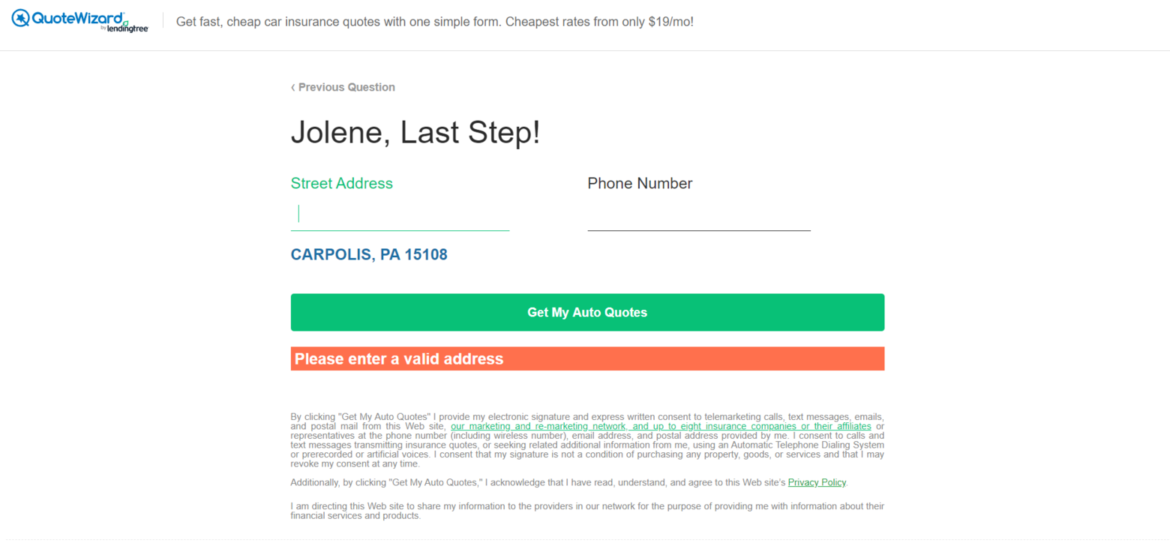 Before you click "Get My Auto Quotes," make sure you read the consent paragraph at the bottom.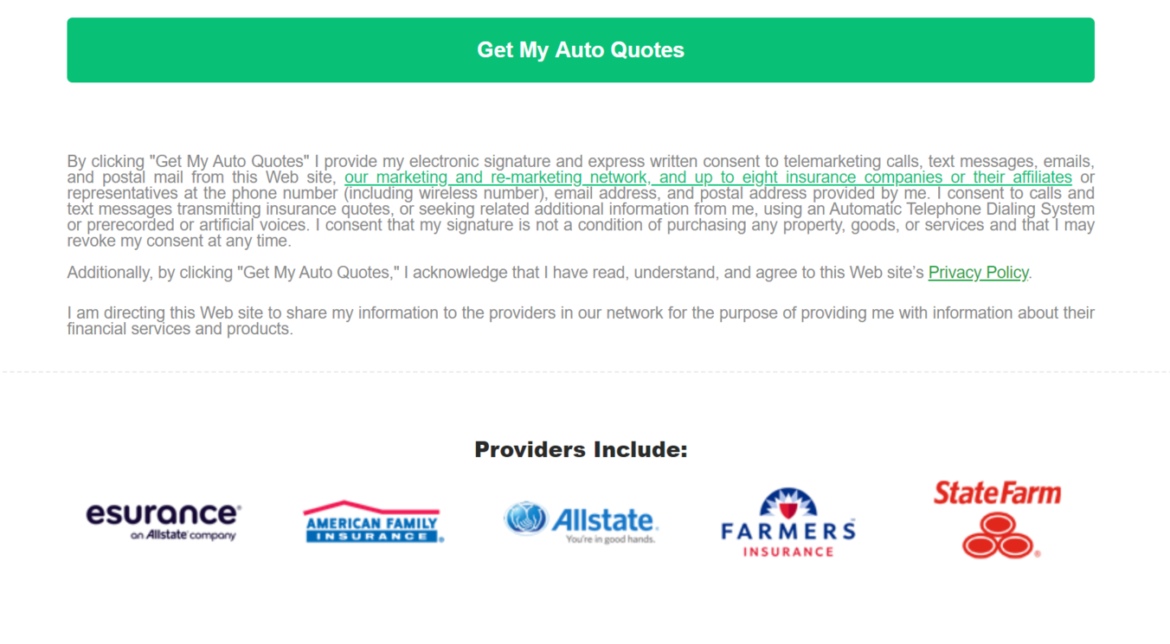 You are giving consent for the companies and auto insurers to call you, send you emails, mail, and text messages. They will reach out to you in order to help you finalize your purchase.
Step 7 – Get Your Quotes
After you've clicked on "Get My Auto Quotes," you will be taken to a page that lists the best quotes for you.
The number of quotes you receive will vary, and in some cases you'll need to proceed to the insurance company's website to finalize the quote process. Some insurance companies require more information to complete a quote and to ensure that the quote is accurate.
There is no option to customize your coverage directly on the QuoteWizard site. In order to see rates for a variety of different coverage options, you'll need to get more quotes from the insurance company. This isn't uncommon with quote comparison sites, since they are designed to give you a baseline to start from.
What are the pros & cons of using QuoteWizard?
We've gone over QuoteWizard's history and quote process, and we now have enough information to discuss whether QuoteWizard is a good tool to use. Laying out the pros and cons of QuoteWizard will allow you to quickly decide if you want to proceed with using QuoteWizard to find the cheapest insurance policy rates in your area.
What are the pros?
Take a look at the list below for the main pros of QuoteWizard.
QuoteWizard pulls quotes from the top insurers, with 30 insurance companies available
The company has good ratings on review sites and a good BBB rating
The quoting process is fast and easy
The pros tend to focus on the quoting process rather than the actual product. That's because, like most quote comparison sites, QuoteWizard really provides a service, and the product is provided by the actual insurance company.
What are the cons?
Take a look at some of the cons of using QuoteWizard below.
There's no certainty about how many quotes you will get after filling out the form
You may have to fill out a second form on an insurer's website to finalize your quote
You will need to provide personal information
You will need to consent to be contacted by phone or email
Most of these are non-issues and the cost of getting multiple quotes from the top car insurance companies easily. It's also worth noting that providing personal information improves the accuracy of the quotes.
QuoteWizard offers a fast, simple way to get quotes from a variety of companies.
QuoteWizard Review: The Bottom Line
QuoteWizard offers quotes from the best insurance companies out there and offers an easy-to-use, straightforward form. It allows insurance customers to get multiple quotes with a single form.
Now that you know what QuoteWizard is all about, you can start shopping for auto insurance. Enter your ZIP code below to get free quotes now.
Compare over 200 auto insurance companies at once!
Secured with SHA-256 Encryption
Frequently Asked Questions: QuoteWizard
In case you are still debating whether to use this tool, we are going to go over a few frequently asked questions about it.
#1 – Does QuoteWizard have a mobile app?
No, there is not have a mobile app (most quote comparison sites don't). You can still fill out a quote form on your smartphone, tablet, or computer, but you will have to visit the main website.
#2 – Can I purchase policies through the QuoteWizard website?
While you can't purchase an auto policy on the website, at the end of the quote process you visit the insurance company's websites to purchase a policy. This is common to quote comparison sites; they don't sell insurance, they facilitate the quote process.
#3 – Can I pay my insurance bill through the QuoteWizard website?
Since the website redirects you to insurers' websites, you will never pay on the website. Once you pick your insurer, all of your account information will be on that insurer's website. Remember, this company is simply a tool to help you find an insurer, not a licensed agent.
#4 – How difficult is it to speak to an agent?
QuoteWizard doesn't have agents, as it is not an insurer. There is a customer service phone number you can call if you need assistance. The company also a "Contact us" button to open up an email form if you'd like to request help online.
#5 – What is lead generation?
Lead generation is a term for a method of finding potential customers, or "leads." Someone asking "Where can I get life insurance leads?" might look to a lead generation company like Nextgen. Nextgen leads reviews are an entirely different thing, and leaders are not of concern to most customers. However, it's worth noting that a leads generation service will pass your info on to the companies paying them. That may lead to a solicitation from those companies, which is exactly why leads generation companies exist- to sell leads to insurers.